The timeless French Country Farmhouse style of furniture is rich in nostalgia, and it is one of the most popular styles in our EuroLuxHome.com online store. Whether our customers choose genuine antique French Country Farmhouse furniture imported from France or newly crafted pieces inspired by the style, they love the refined but comfortable look!
As the name suggests, there is a rustic element to French Country Farmhouse style that celebrates the natural beauty of rural France. This design style places a great emphasis on traditional craftsmanship, natural materials and a sense of harmony and balance.
French Country Style
Imagine walking into a charming old French farmhouse deep in the hills of a wine region or one surrounded by fields of golden corn. The kind of decor and furnishings you might see are exactly the kind we expect of this design style.
Photo above by Kim Nichols. Photo below by Mustard Seed Interiors.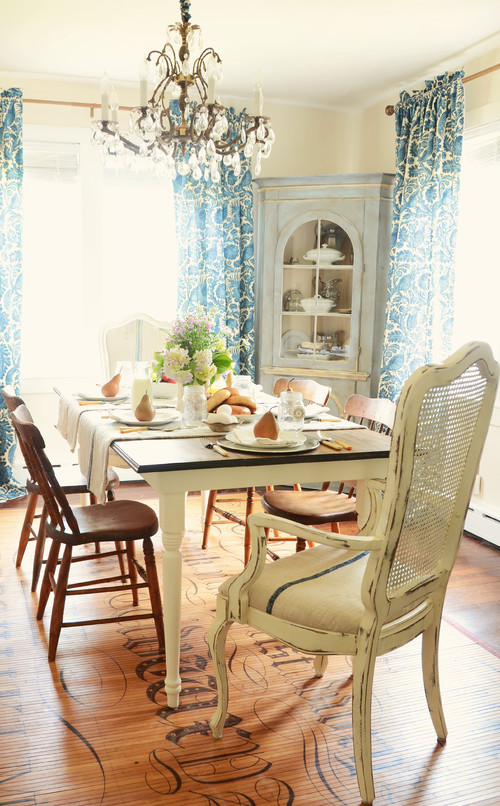 You might see a large wooden table in the kitchen, possibly crafted in pine or another light or medium wood. Simple furniture features graceful lines and a slightly weathered look, or you will see cabinets with a distressed paint finish.
Country Farmhouse Furniture Sets
Things are not too matchy matchy, no matched sets of furniture, yet everything works together. The furniture and accessories have the look of being collected over the years, combining family heirlooms with newer pieces.
Everything is effortless, nothing is trying too hard to impress. Nothing is shiny or too crisp and perfect. These homes look lived in and you know that the people living there are very happy and content indeed!
Farmhouse Furniture at EuroLuxHome.com
Whether you're in the market to update your dining room with a new dining table, enhance your home decor with modern farmhouse style, or add a lovely new piece of bedroom furniture such as a bookcase, our selection of Farmhouse decor has something for you. A coffee table, accent table or some end tables in this style could be great for your home office or living room furniture. Combined with the right tv stand or Farmhouse table, this could entirely reshape your home.
Our other best sellers include solid wood furniture such as bar stools, side tables, counter stools and more! If you like this style, we wrote a more detailed guide on it here.
We have a lot of new, vintage and antique French Country Farmhouse pieces in our online EuroLuxHome.com furniture and home accents store and shipping is always free. For example, this fine walnut vintage French Country sideboard hits all the style points!
Chairs with a ladder back are also ideal for this look, and chairs and benches often feature woven rush or rattan seats. These new French Country dining chairs in our store have intricate carvings in the walnut wood and hand-woven rattan seats.
Layered textures with rustic and distressed finishes add a great deal to the effect, and layered fabrics such as gingham and florals in varying scales also add to the effortless look. Toile de Jouy is a classic for French Country Farmhouse linens and other soft furnishings.
Chickens and roosters and other farmyard animals are a popular motif, as seen on this hand-woven wool Aubusson throw pillow!
Farmhouse Home Decor Done Right
In addition to French Country Farmhouse antique furniture and newly crafted pieces, we are pleased to stock all kinds of vintage and new home accessories that look perfect with this style of decor.
Earlier this year I mentioned that Farmhouse style is a leading decor trend right now and I am not surprised! It is more than just a fleeting fashion. There is a timeless, serene and nurturing quality to this interior design look. It's comforting in our rapidly changing and stressful times!
Aimee owns EuroLuxHome.com with her husband and best friend, Greg. Aimee sources amazing antique furniture, vintage lighting, & high-quality reproduction furniture to help her customers decorate their homes in a unique way. She loves her 8 (you read that right) fuzzy children and is renovating a 1920s bungalow in South Carolina. Find us on Facebook or connect with EuroLux on Google+. Or you can sign up here to receive this blog in your inbox.