Our customer, Raymond, is thrilled with his new secretary desk! This fantastic new desk and bookshelf, inspired by Old World European furniture designs, will look fantastic in your home. The piece, which stands nearly 8 feet tall and is capped with a swirling scroll pediment, is crafted with a stunning mahogany finish. Individual beveled glass panes adorn the bookcase over the desk in an attractive pattern. The secretary desk unfolds to show a leather writing surface, as well as numerous drawers and pigeonholes, as well as a middle cabinet, to keep your writing utensils and documents organized. Even extra storage is available in the lower drawers. The secretary desk and bookcase's old-fashioned look is enhanced by brass-tone fittings. It stands on carved bracket feet that not only look great, but also make cleaning below the desk a breeze! The new secretary desk and bookcase has a height of 92 inches, a width of 38 inches, and a depth of 20 inches.
What is a Secretary Desk?
Despite its name, a secretary desk is more commonly found in homes than in businesses. The secretary desk's fundamental design consists of a set of drawers topped by a fold-out desk, with a set of shelves or a hutch sitting on top. The basic design is fairly old; preserved antique examples from the 1500s and maybe earlier imply that the desk was commonly used at the period. Many people keep a secretary desk at home to use as a small workplace or a family organizing area. Modern offices tend to use a different styled desk design with more room to spread out and slightly less private storage, but many people keep a secretary desk at home to use as a small workplace or as a family organizing area.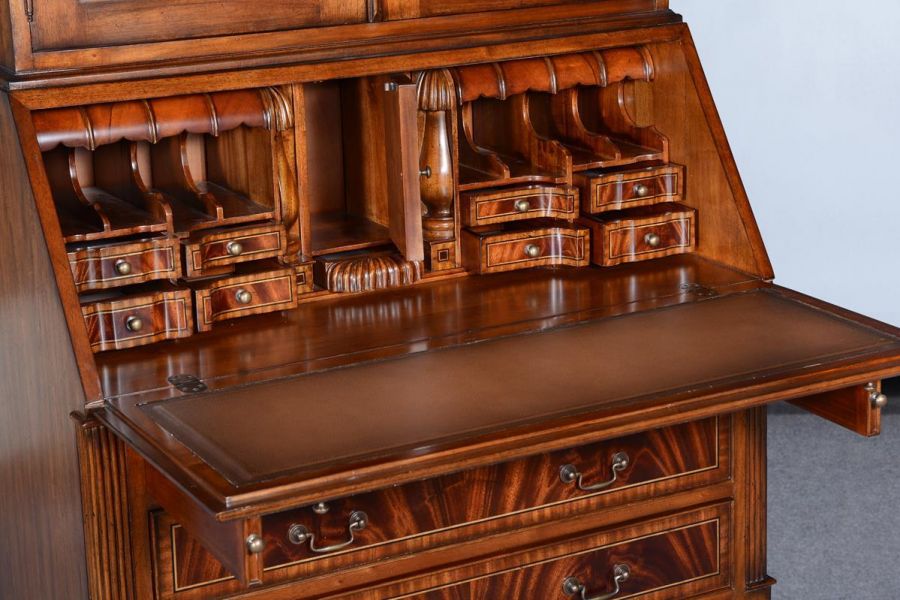 Where Should I Put My Secretary Desk?
They can be a nice addition to your living room, or in your workspace as a fixture in your home office. This piece of furniture also has applications in the entryway or dining room. There are many iterations of this solid wood writing desk. There are older, Chippendale versions that bring a classic appeal to your home decor. You can also browse a selection of Mid-Century Modern desks if your taste is more modern. If you want some help picking one out, we wrote this little guide that youcan read here!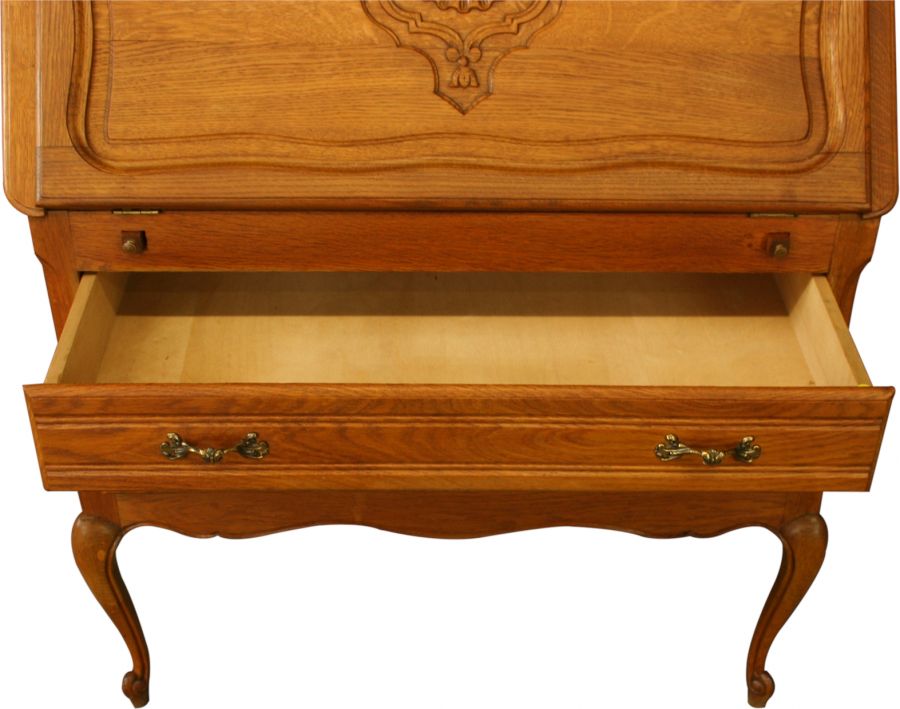 Home Office Furniture at EuroLuxHome.com
At EuroLuxHome.com, we have a large selection of secretary desks. We can set you up with a small secretary if you have a small space to work with. Our selection of genuine antique secretary desks is multifunctional, providing both style and storage space to your interior design. If wood secretary desks aren't your cup of tea, we have other office desks as well, ranging from computer desks to corner desks and more. One thing is sure- if you're looking for home office furniture, EuroLux is the place to be. You can browse our office furniture here!
If you're into old furniture, you know nothing makes a statement in your home quite like a quality antique bed. Something about the class and style of these pieces keeps designers coming back. Simply put, they don't carve bed frames, headboards and footboards quite like they used to! In the age before machine carving, the quality of bedroom furniture was decided by the skill of the craftsman and the quality of materials. Each piece was crafted in its own unique way, without the standardized sizes and parts. What does that mean for furniture enthusiasts looking to add antique style to their bedroom? And how do you go about choosing the right antique bed for your home?
In this post, we'll go over some of our favorite styles of 19th century and 20th century beds, as well as go over some of the ins-and-outs that will make your interior decorating life easier.
The Best Antique Beds
Whether you're looking for a taste of the French countryside, or the prestige of a London palace, an antique bed is a great place to start.
Victorian
Named after Queen Victoria and the era of English prosperity she helped to usher in,  this style is sure to make you feel like royalty. Often crafted from solid woods such as antique oak, a Victorian style piece would be a great fit in your elegant bedroom set. This is a relatively popular style, so it won't be too difficult to find other antique furniture to complement your bedroom's centerpiece. Victorian beds always impress. Similar styles include the Regency style. 
Louis XVI
The Louis XVI style, as you may be able to guess because of its name, is an antique French furniture movement. Characteristics of this style include taking a neoclassical approach, which means there are themes and motifs from ancient Greek architecture. Whether you choose a rosewood, oak, or mahogany bed in this style, we think you'll be impressed.
What You Should Know About Antique Beds
Whether you choose an iron bed, 4-poster bed, canopy bed or brass bed, picking the right antique piece can be a journey. There are more elements to take into account than just looks. For example, since these pieces were crafted before standardized sizes, you may need to get a customized mattress to fit the bedframe. In the old days, there weren't king size beds, queen size beds, full size beds or double beds- they were tailored to the requirements of the user. If you need a custom mattress designed for one of your bed frames, here is a good place to start. One thing is certain- whether you choose a Rococo, Louis XV, Mid-Century Modern, French Country, or Art Deco bed, you'll be making a style statement in your antique bedroom or guest room. We wrote a post covering all of the staples of bedroom furniture. If you're interested in learning more, you can check it out here.
At EuroLuxHome.com, we have a wide selection of antique bed frames and bedroom furniture. From sleigh beds to daybeds, our collection has something for everyone.
Nothing can add comfort and style like a quality upholstered bench. Whether you're in the market for a tufted piece for your living room or a storage bench for entryway, you'll be impressed by the versatility of this furniture type. Picture this scenario: you're having company over, and are trying to figure out seating. You've got a set of chairs that matches with your interior design, but they're too small, or not comfortable enough. A bench with upholstery is a great solution.
These pieces are generally upholstered with brown or black genuine leather/faux leather. This gives them the ability to blend with all sorts of color schemes and styles. Any style can benefit from more comfort, whether it's Mid-Century Modern or Victorian. You could also consider a storage bench, perfect for making good use of a small space. The cushioned seat of a leather bench allows for more comfort than your standard seating options.
A durable, attractive Upholstered Bench
There's one example of this type of furniture that we couldn't help but mention: this reproduction upholstered bench. There's a lot to love about this piece. One thing we always look for when collection furniture is durability. This bench meets that standard. Its solid wood legs and construction ensure it will last for generations. After all, there's no sense in crafting a lovely upholstery if it isn't supported by a sturdy wood frame.
As you might have noticed, this wood bench is easy on the eyes. We can guarantee that any guest who lays eyes on it will be impressed. The deep black color of the leather was crafted using a technique known as an antique blackwash. Not only is the finish beautiful in its own right, but it also gives you options. A piece like this has the ability to blend with more color schemes than others, so you'll find all sorts of great places to put it! Whether you want an entryway bench, bedroom bench, or even a dining bench, this piece fits the bill. This bench features a leather upholstery on the seat for added comfort, in addition to its durability and beauty. For something similar, check out this King Henry bed bench!
Upholstered Benches Enhance Every Space!
Just imagine how a piece like this could blend with your coffee table, dining room furniture, or other bench seat! You could also consider putting one in your home office, enhancing both your work and home decor. From padded seat cushion to sturdy legs, you'll be impressed by this bench.
Every once in a while, we get a high quality piece of furniture that we can't help but write about. This antique French sideboard is one of those pieces. This oak sideboard has everything we look for in a piece of antique furniture. It's sturdy. It's made of quality material. Its craftsmanship has withstood the test of time. For a piece to survive long enough to become antique, it takes skilled carpenters. Whoever crafted this Henry II Buffet Server clearly knew what they were doing. With the aged wood, it likely looks better than the day it was created!
There is something commanding about the presence of an antique sideboard. Maybe it's the hours of work it takes to create one. Or it's the attention to detail that a quality piece demonstrates. Maybe it's the sheer scale. There are many types of quality pieces of furniture in this style that could make a great addition to your home. But we are particularly impressed by this one.
Quality Craftsmanship
Crafted around the late 19th century or early 20th century, this wood sideboard provides shelving for storage space in addition to its style! Using solid woods such as solid oak make it able to store heavier items. You'll find that a piece like this is a great way to store collectibles! You will notice the intricately carved oak cabinet doors of this antique buffet, making you feel like 19th century royalty. Most antique oak furniture has this effect.
Like most antique and vintage sideboards, we'd recommend you place this in your dining room or living room. We can set you up with dining furniture such as a dining table, or a bookcase or credenza to match! A quality buffet could also look great in your entryway or home office. Regardless of whether you choose to put a 2-door sideboard like this one, it's going to impress. Use it for style, use it for storage, or use it for both! One thing is sure when you're shopping for antique sideboard buffets: you're getting versatility.
Antique Sideboards at EuroLuxHome.com
At EuroLuxHome.com, we've got all sorts of antique furniture available. From Victorian walnut sideboards, to antique English dining room furniture, to marble top mahogany sideboards with a hutch and more, we've got the furniture to meet your needs. From Louis XV to Mid-Century Modern, Arts and Crafts, Queen Anne and more, each piece from our collection is sure to become the focal point of your home. With quality materials like rosewood, pine wood, teak and more, this furniture is built to last.
Few pieces add a regal feel to your decor like antique armoires. A versatile type of furniture, an armoire can bring a sense of elegance to your room, while also providing the practical benefit of ample storage space for anything you choose, be it clothes, linen, jewelry, or even weapons. At EuroLuxHome.com, we have a wide selection of these sturdy, time-tested pieces, and over the years, we've learned the finer points of the style. Hopefully by the end of this post, you'll be an expert on them too.
What exactly is an armoire?
The first thing to understand is that the term can mean a lot of things. An armoire is essentially a large cabinet or wardrobe. Most feature at least one paneled door on the exterior. Many of the pieces we carry also feature a shelf for more storage space. Antique armoires are generally crafted from sturdy wood such as walnut, oak, or mahogany. This structural integrity is why so many of these pieces last long enough to become antique, as most of our armoires were created circa the 19th century.
Depending on the antique piece, you may also find a few with a glass door, giving the piece the ability to be used to display valuables. For those who wish to use them as a wardrobe, some armoires also contain a beveled mirror. Many people also use them as a bookcase, perhaps even adding a shelf to create more room. With the versatility of this style, chances are that every home could put one to good use.
Many of these pieces could be used as storage cabinets, many featuring a chest of drawers. Some folks use this one-of-a-kind furniture as a wardrobe armoire.
Where should I place my antique armoire?
Depends on what you want the piece to do! We've had customers place them anywhere from bedroom to dining room to living room. Many customers use them as an antique wardrobe, giving a rustic charm for their bedroom that can't be matched by a traditional linen closet. As mentioned before, the storage space provided by an old armoire lets you store more clothes than you could reasonable wear. Some of our armoires also contain a drawer to build on this benefit. Sturdy, quality wood enhances the decor of a bedroom while also serving a practical purpose.
Antique armoires are also a great choice for anyone looking to enhance their dining room decor. Some feature a mirrored door, which can create a sense of more space in the room as you dine with guests. We've even seen people use them as cupboards Pieces that feature a glass door and shelf allow for the display of valuables, such as dishes or fine china. The ability of an antique armoire to blend with other pieces of antique furniture while providing more storage space ensures that your beautiful piece is also practical.
What are the different styles of antique armoire?
There are too many to count, so we'll just discuss the common styles, and the styles we carry at EuroLuxHome.com. Our personal favorite is the antique French armoire. Simply put, the French have a certain knack for creating antique furniture. These pieces feature immaculate carvings, demonstrating an elite attention to detail. A standard antique French armoire features 2 or more wooden doors, and sometimes a glass door. The wood used to make these pieces is usually oak or walnut-something sturdy. However, we have also carried antique French armoires crafted from mahogany.
Another popular style of antique armoire is the classic Farmhouse style. These pieces are all about rustic charm. They tend to be less dramatic than other types, creating a more home-style atmosphere. Like other armoires, these usually feature one or more wooden doors, with the capacity to have a glass door as well, depending on the craftsmen. These pieces usually feature a wood finish, making it perfect for any cottage. Other styles include French Provincial, Art Deco, French Country, Victorian, Art Nouveau, Rococo, Louis Philippe, and Louis XV style. No matter which you choose, it is sure to demonstrate master craftsmanship.
From cabinet door to pediment, you can't do much better for your home than by picking up your own antique armoire. This style of antique furniture is timeless, and provides the boost to your decor and storage space that interior designers drool over. We have a wide selection of these beautiful pieces on our website here, so check it out!
Art Deco furniture is a style so timelessly chic, it's hard to believe that a whole century has passed since the Art Deco look first burst onto the design scene. As we enter the new Roaring Twenties, let's look back at the original 1920s and see why the sleek Art Deco style is still popular among international designers.
The Art Deco Era
The Art Deco movement became prominent in the 1920s and 1930s, when it was the perfect match for the modern thinking of the Jazz Age. After the ordeals of World War I, many people were looking to a new future, rejecting the fussy and elaborate Victorian and Art Nouveau styles of the early 20th Century. Out with elaborate shapes and ornate carvings, and in with streamlined silhouettes, metallic accents and sleek glossy lacquer surfaces, hallmarks of Art Deco design!
Amazing new technologies, materials, and methods of communications and transportation informed this brand new aesthetic too.
It was a very exciting time, and the younger generation was swept up in the energy. The "bright young things" had new ideas about society and they were forward-looking in every way.
Women started wearing knee-length skirts and dresses - this was scandalously short at the time! These women, dubbed Flappers, cut their hair short too, drove cars, smoked in public, partied and drank alcohol, and generally enjoyed themselves in ways that had previously been considered quite unladylike! They were the perfect icon for the rebellious, shiny, adventurous Roaring Twenties.
Art Deco Inspired Design
Art Deco style was very inspired by the Age of the Machine, as the new technologies of airplanes, automobiles and transatlantic travel on cruise liners captured everyone's imagination. This 'streamline moderne' look of Art Deco was very inspired by visual art, aerodynamic design, and geometric motifs. Furniture and architecture was designed with clean, dynamic, curved, and sweeping lines to create the feeling of speed.
Picture the soaring curves of the Chrysler Building in New York City and you'll have a good idea of both the optimistic feeling of the early Art Deco era and the distinctive look of Art Deco style.
In the 1930s, more rectilinear lines and geometric shapes, including fragmented looks, were added. These reflected the Cubist influence of artist Pablo Picasso, who revolutionized modern art.
Why is it called Art Deco?
Do you know why it's called Art Deco? It was named for the International Exhibition of Modern Decorative and Industrial Arts held in Paris in 1925. This was a showcase of exciting new design trends and the sexy new French Art Deco look made a great impact. In Paris of course the show had a French name: Exposition Internationale des Arts Décoratifs et Industriels Modernes. That's quite a mouthful, so thankfully people picked out the "Arts Décoratifs" piece and then shortened it again to Art Deco, although the term did not become widely used until the 1960s.
The Look of Art Deco Style Furniture
Sleek, chic and not at all meek! That's the Art Deco look, which relies on well-defined curves and lines. Geometric designs are sharp and streamlined, and applied decoration is also important to the look, including sunbursts, geometric patterns and stylized floral designs.
Influences include the design of modern ships, trains, planes and motor cars. Ancient Egyptian, Aztec and Central American art also creeps in, while ancient Greek designs emerge in Greco Deco.
The streamlined silhouette of Art Deco style furniture is simple, but when emphasized by the use of glossy and shiny materials it looks glamorous and opulent. With the unfussy shapes and lack of ornate carvings, all the luxury comes from the materials and finishes. For example, you will often see a gorgeous slab of marble topping a sideboard, buffet, nightstand or table or Art Deco pieces made from an exotic wood like macassar ebony.
Woods are dark to add to the sense of substance and exotic woods are beautifully grained to give a surface decorative effect. Gleaming mirror and glass gave a reflective and modern feel too. Chrome finishes and marble top buffets and sideboards are typical of the era. In Art Deco land, it's always time to shine up your chrome cocktail shaker and start the party.
Early Art Deco furniture designers used colors that were quite muted, including pastel pinks and greens, contrasted with black. But after the 1929 stock market crash in the United States, brighter colors were used for mass producing Art Deco home decor, to cheer everyone up. The popular Fiestaware dishes are a typical example with their bold yellows, reds, oranges, greens and blues. Famous Art Deco furniture designers include Emile-Jacques Ruhlmann and Jules LeLeu.
Art Deco Chairs
Whether you're arranging your coffee table with an Art Deco sofa, or choosing a set of dining chairs for your dining table, you'll find that this style of seating brings you the best furniture the decorative arts can create.
Typical Stylistic Features
Inspired by the architecture of the time, a standard art deco piece features Curvilinear shapes, think sweeping curves, and rectilinear shapes, with straight lines set at angles.
The look avoids fussy curlicues and ornate silhouettes. It's all about the clean lines to create a bold profile.
Geometric shapes and patterns, zigzags, trapezoids, chevron, nautical portholes and sunburst patterns.
Applied decoration is important. Motifs include female figures, and stylized flowers and animals such as gazelles and birds.
Glossy, smooth materials create reflective surfaces, including marble, glass, mirror, and lacquer finishes.
Polished metals were also important for the reflective look, including nickel, aluminum, stainless steel, brass, gold and especially chrome.
Dark and exotic woods created a sense of substance and luxury, often with beautiful grains to create surface pattern. Popular woods include rosewood, walnut, teak, maple, macassar ebony and zebra wood.
New man-made materials included Bakelite, plastics and other composites which were considered the bees' knees at the time!
Neutrals are chic, while pale pastel colors including pink and green, are accented with black.
Upholstery is typically a solid color. If pattern is involved, it might be a geometric or an animal print.
Velvet and leather are popular options for upholstery.
Shagreen and leather look combined with wood and chrome.
We love the Art Deco period and our renovated 1920s vintage bungalow dates to this era. The streamlined style is a kind of interior design royalty, eternally popular because it is so striking to look at and easy to live with. It works in many types of space to create an upscale and sophisticated feel that balances retro appeal with contemporary tastes. For example, the updated "streamline moderne" Art Deco look in the Architectural Digest photo above checks all the boxes for a home today.
Whether you are looking for original antique Art Deco furniture or high-quality new Art Deco inspired pieces, Greg and I hope you have enjoyed our guide to Art Deco style furniture and that you will check out our other blog posts aboutArt Deco interior design.
Aimee owns EuroLuxHome.com with her husband and best friend, Greg. Aimee sources amazing antique furniture, vintage lighting, & high-quality reproduction furniture to help her customers decorate their homes in a unique way. She loves her 9 (you read that right) fuzzy children and is renovating a 1920s bungalow in South Carolina. Find us on Facebook or you can sign up here to receive this blog in your inbox.
People sometimes get confused about the difference between English Regency style furniture and French Regency style furniture. That's no surprise when they sound so alike, but they are actually quite different in the way they look. Our Guide to Regency Style Furniture tells you all about the English Regency period and its influence on interior designers. Today we'll talk about the French Regency period too, and show you how to tell the difference between the two furniture styles. One thing is sure- both of these movements resulted in the creation of countless pieces of beautiful antique furniture. Furniture stores like us love this style, whether it's shining through bedroom sets, bookcases, console tables, or dining chairs. You could even consider a living room set to further enhance this space!
The one thing that both English Regency and French Regency style furniture has in common is that in both countries the term Regency referred to a period when a Prince Regent stood in for the monarch. Let's start with La Belle France!
French Regency Style Furniture
The French Regency or Régence years were in the early 18th century when King Louis XV was too young to reign and so Philippe d'Orléans governed in his place as Prince Regent. The fine furniture and decorative arts in this period were in a transitional style. It shows the shifting tastes between the previous Baroque styling that was popular during the reign of Louis XIV, and the rising Rococo look that would become fashionable during the reign of King Louis XV after he took the throne as an adult.
Furniture design in this transition style Régence era started to develop the curved lines and ornate feminine details that would later flourish into full-blown Rococo styling. Rococo furniture was very graceful and full of lavish carvings and sensuous shapes. Embellishments drew on the natural world, with flowery, frilly and watery carvings including swirling shells. Furniture designs were often asymmetric, which was an exciting new development at the time.
Typical French Regency Style Furniture Features
Furniture boasted curved lines and corners, and sinuous lines including bombe shapes and serpentine fronts on cabinets.
New motifs included shells, mythological beasts, and masques.
You also see a lot of flamboyant scrolls including C-shaped scrolls and S-shaped scrolls, and leafy scrolls known as foliated scrolls.
Curvy cabriole legs, and hoof feet.
Woods included walnut, rosewood and oak, often featuring beautiful surface veneers and marquetry.
The wood was accented with marble and with regally gilt bronze or gilded metal ormolu ornaments.
Seating in French furniture became much more comfortable in general, including curved backs rather than rigid straight backs. Cane chairs became popular too. It was all an invitation to encourage you to draw up a chair for some elegant conversation... and gossip!
English Regency Style Furniture
About a century later, across the channel in England, the English Regency era occurred in the early 19th century. During those years George IV served as Prince Regent on behalf of his father George III who wasn't well enough to govern. But the term English Regency style usually refers to a longer time span than just those 9 years, continuing through to around 1837.
This was at the end of the Georgian period, a booming time for beautiful Georgian furniture design, created to suit the classically proportioned Regency architecture.
Typical English Regency Style Furniture Features
Furniture design retained the Neoclassical look of the Georgian era, inspired by ancient Greek, Roman and Egyptian design.
Straight lines and clean edges are a staple of regency period furniture.
Furniture makers in this period emphasized symmetrical and streamlined designs in contrast to the ornate flourishes and carvings of the earlier French Regency furniture.
Dark woods including mahogany and dramatic decorative veneers were the focus to create a sense of majesty and luxury, often accented by gold and metal accents.
Ornamentation such as classic decorative motifs included rosettes, laurel wreaths, acanthus leaves and lyres, which are U-shaped harps. Lion masks were another decorative accent.
English Regency Versus French Regency Style Furniture
As you can see, there is quite a contrast between the clean and straight-lined Neoclassical look of English Regency style furniture versus the curvy shapes and decorative flourishes of the French Regency style. Both styles are wonderful, it just depends on your own personal taste and what works for your home and lifestyle.
An English Regency interior design scheme will work terrifically well in a dining room. A French Regency look is perfect for a living room or seductive bedroom where the curvy lines create a sense of lavish comfort and decorative allure.
Browse our website for furniture in both styles. We have pieces for you, whether you are tempted by English Regency or French Regency furniture design. Our options in this style include loveseats, chaise pieces, dining tables, nightstands, side tables, bedframes, coffee tables, credenzas and more!
Aimee owns EuroLuxHome.com with her husband and best friend, Greg. Aimee sources amazing antique furniture, vintage lighting, & high-quality reproduction furniture to help her customers decorate their homes in a unique way. She loves her 9 (you read that right) fuzzy children and is renovating a 1920s bungalow in South Carolina. Find us on Facebook or you can sign up here to receive this blog in your inbox.
If you're curious about Regency chairs' history and how to identify this style of chair, Greg and I are delighted to tell you everything you need to know. Our photos will also show you how these classic chairs continue to be an elegant choice for today's homes. Our Guide to Regency Style Furniture tells you all about the Regency period in general, and how it inspired interior designers. Today we'll talk specifically about Regency chairs' history and style. Regency style chairs include but are not limited to accent chairs, desk chairs, club chairs, dining room chairs, occasional chairs, open arm chairs and more. Many of the pieces we carry were crafted in the late 19th century or early 20th century. From modern Hollywood Regency furniture to antique Regency furniture with upholstery, EuroLuxHome.com has you covered.
History of Regency Style Furniture
The Regency era refers to the years 1811 – 1837 at the end of the Georgian period. It is named specifically for the 9 years before King George IV took the British throne. In those years he was Prince Regent, or acting monarch. His father King George III who was too sick to do his duties.
These were exciting times for furniture design. Regency chairs, tables and sideboards were the perfect match for the classically proportioned Regency architecture. Imagine the graceful rooms that you see in a Jane Austen movie and you'll have a good idea of the look! A set of antique dining chairs in this style would look great around your dining table, whether your home decor is Chippendale or Mid-Century Modern.
Regency Style Furniture
Regency style furniture included chairs for the dining room, living room and hallway. These chairs reflect the general tastes of the Regency period. Furniture design continued the Neoclassical feel of the Georgian era, drawing on ancient Greek, Roman and Egyptian design.
The focus was on stately and clean-edged looks with straight lines.
The unfussy furniture designs were symmetrical and streamlined, without any ornate carved detail.
Beautiful dark woods and dramatic decorative veneers
Gold and metal accents were a high-quality accent against the gorgeous wood.
Regency Chairs
Typical features for Regency chairs include:
Dark woods and exotic veneers including mahogany and rosewood to create an imposing and monumental look.
Straight lines or classically rounded lines and arcs.
Gilded accents and brass or metal accents.
Classic decorative symbols such as rosettes, laurel wreaths, acanthus leaves and lyres.
Chair legs typically are saber legs, concave legs, turned legs, and legs with classic column looks, sometimes joined by X-shaped stretchers.
Claw and ball feet also give a majestic feel, and decorative paw-shaped feet are sometimes covered in metal.
Arms are set high on the uprights of the chair, creating a formal look.
The chair backs are often topped with broad and flat crest rails for a noble appearance.
Sheraton Chairs
The neoclassical furniture designs of the famous 18th century English furniture maker Thomas Sheraton became popular during the Georgian period. His timeless designs were still heavily influencing chair design during the Regency era. 
The cabinet maker and chair designer Thomas Sheraton left a legacy so powerful that people still seek out his beautifully proportioned chairs today. The original antiques are very rare and expensive but we are very happy to offer many high-quality reproduction Sheraton chairs on our website.

Regency chairs are a great choice for the dining room, but they also look wonderful in any room of the house, whether as occasional seating in a bedroom or hallway or as a side chair in a living room. Interior designers love these chairs because they work well in our 21st century homes despite their historic origins. They have a classic look that gives a sense of history and upscale traditional elegance, but also a streamlined silhouette that suits our contemporary lives.
We hope you enjoyed this post on Regency chairs' history and styles! If you are shopping for Regency chairs then please browse our large selection at the link, with competitive prices that include free shipping! Whether you're looking for a pair of Regency style chairs, lacquered Art Deco decor, Chinoiserie, English Regency furniture and much, much more, EuroLuxHome.com as the pieces for you.
Aimee owns EuroLuxHome.com with her husband and best friend, Greg. Aimee sources amazing antique furniture, vintage lighting, & high-quality reproduction furniture to help her customers decorate their homes in a unique way. She loves her 9 (you read that right) fuzzy children and is renovating a 1920s bungalow in South Carolina. Find us on Facebook or you can sign up here to receive this blog in your inbox.
Regency style furniture is an elegant choice for today's homes. Here's how to recognize this popular and unique style of furniture design and see why it is so timelessly appealing.
Whether you are looking for antique furniture or newly crafted antique-inspired heirloom pieces, Greg and I hope you enjoy our guide to Regency style furniture.
The English Regency Period
The Regency period is named for the time in British history when George IV served as Prince Regent, from 1811-1820. As Prince Regent, he was the acting monarch on behalf of his mentally unwell father George III. But the term Regency style has stuck to describe a longer period than the 9 years when he was Prince Regent. It continues through the decade of George IV's own reign from 1820 to his death in 1830, and sometimes even through to 1837 during the reign of his younger brother William.
This was at the tail end of the Georgian era, which was already a flourishing time in Britain for Georgian furniture design. During the Georgian era, furniture designers such as Thomas Chippendale, Thomas Sheraton and George Hepplewhite rose to fame. The Regency period continued England's reputation as an inspiring player in European art, architecture and aesthetics, including furniture design.
The Inspiration for Regency Furniture Design
George IV's impact on architecture, fashion, and furniture design was huge. Dubbed as "the Prince of Pleasure" he had fine taste, championed the arts, and enjoyed living the good life. He influenced interior design through his own personal tastes and choices, as well as through his royal commissions. These include the building of the Royal Pavilion and the remodel of Buckingham Palace.
The furniture crafted during the English Regency period developed the existing Neoclassical feel of the Georgian era. The Neoclassical look drew from ancient Greek, Roman and Egyptian architecture and design. In some ways it was a British interpretation of the French Empire style, with its monumental look, ornate gold ormolu mounts, and classical and military motifs. But, as the Encyclopeadia Britannica points out, Regency style showed more "purity of detail and structure" than the earlier Neoclassical style or the French Empire style.
The Look of Regency Style Furniture
Imagine a period drama adaptation of a Jane Austen novel. You have the perfect picture of a Regency style dining room, living room or other interior.  The Jane Austen Society of North America tells us that Jane Austen's famous Regency novel Pride and Prejudice was published in 1813. The air of elegance and refinement that we see in all her books and the movie adaptations of her novels are a great example of the arts and design that flourished during the era.   
Regency style furniture is stately and monumental, with a streamlined and symmetrical look that is not frilly or fussy. It is not covered with heavily-carved detail. The ornamentation instead comes from beautiful and exotic woods, dramatic and decorative veneers, and gilded hardware or metal accents.
Typical Regency Style Furniture Features
Shapes and motifs inspired by ancient Greek, Roman and Egyptian architecture and design. You might see Egyptian heads, images of ancient Greek and Roman gods, and mythological beasts.
Clean and symmetrical profiles whether masculine straight lines or classical arches and geometric shapes.
Decorative motifs draw on classical symbols like laurel wreaths and acanthus leaves.Some feature lyres, which are small U-shaped harps.
Lion heads are a repeat motif, especially in brass or metal accents to give a touch of royal pomp to the furniture. Lion heads with rings also serve as handles on drawers.
Dark woods create a majestic and imposing feel. Mahogany wood was especially popular with furniture makers at that time. This strong tropical hardwood was in fashion throughout the Georgian era. The woods were left with a natural and deliciously polished finish to draw attention to the beautiful grain.
Exotic wood veneers add a decorative surface effect and include rosewood and zebrawood, perhaps in classic inlay and banding designs.
Regal gold ormolu mounts and classical and military motifs.
Brass was a popular choice of metal, providing that noble and monumental look and serving as accents and inlays to contrast beautifully with the dark woods.
The styles of chair legs include turned legs, x-shaped stretchers, saber legs and legs with classic column looks. 
Claw and ball feet look majestic while brass or other metal paw feet on chairs and tables also add a decorative touch.  
Antique-Inspired New Regency Style Furniture
While antique English Regency style furniture is expensive to buy, many of today's furniture makers create exquisite pieces that pay tribute to the originals. Often these pieces are scaled down in size to suit the smaller scale of today's homes compared to the huge rooms in the stately mansions and palaces that King George IV spent time in!
These high-quality antique-inspired pieces by exceptional furniture makers such as Jonathon Charles, Scarborough House, and Theodore Alexander might be smaller in size, but they often use the same traditional hand-craftsmanship techniques as the ones used by the Regency furniture masters 200 years ago.
Regency Style Furniture for Today's Homes
You can see how some of our customers have added Regency style furniture to their homes in our "customer spotlight" blog posts:
If you are shopping for Regency style furniture check out our large selection at the link. If you want the traditional appeal of Old World furniture but without excessive fussiness or heavily ornate decoration, this is a terrific choice for you. Whether you're looking for a loveseat, chaise furniture, bedframes, or bookcases, this style has something impressive for you.  Our furniture store's collection is sure to hold a good quality piece to benefit your deco, bringing the showroom to your home. The elegant style is sure to impress with its emphasis on clean-cut lines, high-quality materials, and eternally classic silhouettes and motifs.
Aimee owns EuroLuxHome.com with her husband and best friend, Greg. Aimee sources amazing antique furniture, vintage lighting, & high-quality reproduction furniture to help her customers decorate their homes in a unique way. She loves her 9 (you read that right) fuzzy children and is renovating a 1920s bungalow in South Carolina. Find us on Facebook or you can sign up here to receive this blog in your inbox.
If you are shopping for antique furniture or vintage or new furniture or home decor this Labor Day and are looking for furniture deals, we have a promo code for you to save money on every single item at EuroLuxHome.com now through September 4.
Visit our online antiques and home accessories store EuroLuxHome.com and everything in your cart will receive 15% off at checkout when you use the discount code: EuroLuxLovesMe
Top Furniture Deals
It's true, we do love all our customers, and so the discount is valid on everything site-wide, large or small, antique, vintage or newly crafted. That includes fine European antique furniture and ceramics, vintage lighting and decor and high-quality new furniture, lighting and home accessories from candlesticks to rugs. In addition to 15% off all your purchases, you'll enjoy free shipping in the Continental US and some parts of Canada.
The discount is also valid on our latest container of antique furniture from France... so here is a quick look at some of our favorites to tempt you!
Art Nouveau Buffet
For example, this exquisitely carved walnut wood antique French Art Nouveau buffet, dating to 1900. Cornucopias, or horns of plenty, overflowing with fruit, are carved on this fabulous buffet. Other carvings on the five doors include swags, garlands, fruits, foliage, shells and fleurs-de-lis. It's as pretty as a picture, and sure to solve all of your dining room storage problems!
Or how about this set of 14 walnut wood antique French Renaissance dining chairs? (Item number 23-2) Full of regal Old World appeal, these 12 antique dining chairs and 2 arm chairs or thrones will seat even the largest family. We are selling a lot of antique chairs at the moment as people start to think about the holidays. They know that now is the time to order antique or new chairs and tables to host their festive gatherings! This set of 14 dining chairs dates to 1890 and their Renaissance style silhouette features elegant turned spindles in the chair backs for a classic sculptural look and an open and airy profile that will delight today's buyers. Furniture deals are hard to come by, so don't miss out!
Regency Table Furniture Deals
This Regency style Buckingham table is newly crafted by Jonathan Charles, but we're sneaking it in to show how a high-quality new reproduction table can be a beautiful choice! (Item number JC-183) It's a very versatile extending table, expanding with a self-storing leaf from seating 8, to seating 10, so you have space for everyone at the feast! But the reason you'll fall in love with it is for its sheer good looks. The Buckingham table is based on an original English Regency design from 1820, and it is crafted using the same traditional techniques used by furniture makers for centuries. The handsome crotch mahogany veneer and majestic twin pedestal baluster bases make this an exceptional table.
Other Furniture Deals
Our new arrivals also included many beautiful Blue Delft vases and ginger jars.
We chose these when we were buying antiques in Europe because they are so timelessly elegant, and the classic blue and white designs are a breath of fresh air.
This is one of our favorites: a vintage 1950 hand-painted Delft vase from Holland, marked Ram. (Item number 22-294.) A perfect example of European refinement and originating in Holland, the Delft vase is elegant both in its shape and in its rich blue and white/cream design of flowers. The hand-painted blue floral pattern is elegant and pretty, and the shape of the vase or jar is quite unusual for Delft. The result? A gorgeous vase to take pride of place on a console table in your living room, hallway, foyer or bedroom. To read more about this enticing style, check out our post here.
Religious Treasures
We were also delighted to unpack several boxes of religious treasures after their long journey across the Atlantic from Europe! I'm selecting a Madonna figure to show you, to mark the recent Feast of the Assumption of the Blessed Virgin Mary in August. This exceptional antique French chalkware statue of the Madonna, stands more than 3 feet tall, with lovely colors and details.
We also have many antique and vintage crucifixes and standing crosses, as well as other religious figurines.
Crosses and Crucifixes
For example, this handsome antique French standing cross is sure to be admired by anyone who likes streamlined and minimalist objects, all the better to focus on the spiritual meaning of the statue.
Dating to 1900, the metal crucifix features a ladder and two spears and it stands on a prettily shaped base.
For more inspiration, browse our complete inventory of fine antique furniture from Europe, new furniture for every room in the house, ceramics, wall decor, throw pillows and other high-quality antique-inspired home accessories. Then take 15% off everything in your shopping basket when you enter the coupon code: EuroLuxLovesMe
These furniture deals are valid until September 4, 2019. We hope you can save yourself some money with these furniture deals and find a treat for your home or a gift for a friend.
Greg and I wish you a very happy Labor Day and happy home decor and antiques shopping!
Aimee owns EuroLuxHome.com with her husband and best friend, Greg. Aimee sources amazing antique furniture, vintage lighting, & high-quality reproduction furniture to help her customers decorate their homes in a unique way. She loves her 9 (you read that right) fuzzy children and is renovating a 1920s bungalow in South Carolina. Find us on Facebook or you can sign up here to receive this blog in your inbox.