Artistica is a home decor brand that creates fabulous ceramic art. Known for their craftsmanship, this company is sure to make you feel like a noble in Renaissance Italy!
Deruta Done Right
Their specialty is Deruta pottery. Deruta pottery is an exceptional tin-glazed earthenware, or majolica, manufactured in the town of Deruta on the Tiber River near Perugia, Italy, during the first half of the 16th century. This porcelain is distinguished by its unique mother-of-pearl finish, metallic shine, and decorative elements. Deruta potters, who pioneered an iridescent gold lustre ornamentation, are second only to Gubbio potters in terms of lustre. Although this majolica has many of the Renaissance decorative features, it is unique in at least two ways: the molding of plates with a design in slight relief, the lower part of which is darkened to give an even more lustrous effect; and the division of the plates' broad borders into panels with alternating geometric stripes. These dishes, which depict mythological or religious subjects, can be harsh and heavy at times, and the designs of vases and jars can be flat or crude at others, but Deruta majolica has a particular flamboyance at its best.
Artistica: Peak Italian Ceramics
Picture all of the possible uses for quality Italian ceramics. Your dinnerware set would benefit greatly from some quality Italian pottery. Ceramic dinnerware is a great way to entertain in style, and might just be a great conversation starter! Imagine the look on your guests' faces when they see your new tableware. Your tabletop deserves the perfect centerpiece, and that's exactly what Artistica provides.
Other Artistica Deruta
Other Deruta ceramics from this brand include biscotti jars, wall plates, urns and more. With so many special offers on new products, our collection of their products is bound to have something you'll enjoy.
We hope this taste of Artistica's catalog has piqued your interest! They're one of our favorite new brands for a multitude of reasons. Their craftspeople are true artists (hence the name) with a creative vision that is truly unique in today's decor market. Not only that, but their products are extremely well-made. You can be ensured you are getting the best quality available when you shop Artistica. For more on Deruta ceramics, check out our post here!
EuroLuxHome.com is proud to offer a wide variety of antique style chandeliers, as well as vintage chandeliers. Let's go over some of our favorites!
These lighting fixtures bring a little more pizazz than your average ceiling lights. They can create the feeling of a 19th century mansion, or give off a vibe of Mid-Century elegance. With so many different types, there's a chandelier out there for every decor style!
8-arm French Chandelier
This magnificent vintage French 8-arm chandelier is an excellent choice if you want your vintage lighting to seem extremely truly old. The attractively constructed chandelier, which dates from 1950, has eight curved S-shaped arms, each of which supports a traditional style candlestick holder for the glittering electric candles. The gorgeous burnished tones of the metal chandelier will give your antique themed dining room a really original air, but don't neglect the opportunity to enjoy this beautiful vintage French chandelier in your Traditional style bedroom or corridor.
There be Dragons!
Dragons abound! This magnificent vintage chandelier from France, dating from the 1950s, is exquisitely carved in wood, giving the arms the appearance of mythological monsters, ocean serpents, or dragons. The five arms of this stunning vintage French chandelier include metal embellishments on the unusual angular shaped bulbs. The mythical monsters have a beautiful feeling of movement, and the carving on the central column provides a decorative touch. This lovely vintage 1950 French chandelier is enhanced by the patina on the old wood. If you like themed chandeliers, check out this sailing ship chandelier!
Dovetail Chandelier
This new Dovetail Bayfield chandelier's striking and unusual design will elicit numerous compliments from your friends and family. Dovetail Furniture's Bayfield chandelier features antiqued glass pendants suspended from an aged silver frame. The frame is made of iron, making it durable in everyday usage and appealing to the eye. There are 11 lights in the chandelier. In your bedroom, dining room, living room, or hallway, the antiqued glass pendants will make a striking effect with their sleek geometric form.
More Chandeliers at EuroLuxHome.com
Whether your style favors Art Deco crystal chandeliers, Italian glass chandeliers or a Victorian wrought iron/cast iron piece, there's something out there for you. Our personal favorites are early and mid 20th century pieces. These vintage and antique chandeliers are often crafted from quality materials such as antique bronze and antique brass.
At EuroLuxHome.com, we have a wide selection of lighting for your home decor. From candelabras to sconces, cut crystal ceiling lamps to pendant chandeliers and other antique lighting, we've got something for everyone.
If you're in the market for new living room furniture such as a sectional sofa, ottoman, or recliner, look no further than McKinley Leather. Their furniture combines hardwood frames with top-tier upholstery to create a collection with pure, showroom quality. 
McKinley Leather: Family Owned
McKinley Leather is a family-owned and operated business with a 30-year history. Some of these artists have been with them from the company's inception, from the day it first opened its doors. We believe they have highly trained craftspeople with many years of specific expertise. These artisans are the best in the field and take pride in their work, ensuring that every stitch, tuft, and nail is as perfect as human hands can make it, as well as ensuring that you will receive a one-of-a-kind piece of furniture that will never be duplicated exactly.
Sassy Cassie Leather
Sassy Cassie is an Aniline Protected Top Grain leather (the top of the line in terms of leathers). This leather is ideal for high-traffic areas, daily use, children, and animal applications. With appropriate maintenance, it should last a long time. This leather should not be cleaned with anything other than a soft cloth and a gentle dusting. You customer can order the right cleaning supplies for Uniters of North America by calling 800-234-8986. We do not recommend applying protection because it is already protected at the Tannery Level. For more information on how to care for your leather upholstered furniture, check this out.
Sturdy Frames
These frames are corner blocked, doweled, stapled, and glued. They  have a limited lifetime warranty, which means that if the frame breaks, an investigation can determine if it is a manufacturing defect or damage caused by the client. The frames are extremely durable. The  furniture is all 8-way hand tied, which means it is tied by human hands rather than a machine. Except for motion pieces, which cannot be 8-way hand tied, all of their furniture comes standard with an 8-way hand tied. Except for the sewing of the leather, all of their furniture is handcrafted from start to finish. No machinery touches the furniture in any way during the manufacturing process. 
Why We Love McKinley Leather
Whether you're looking for accent chairs, leather chairs, leather sofas or loveseats, you're bound to be impressed by their high-quality collection. This brand is one of our favorites for a reason- it's not just quality furniture. It's CONSISTENT quality furniture. Every part of the creation process is done by hand, and inspected to make sure that each piece reaches the highest standard. We're big fans of handmade furniture. If you are too and want to read more about some of our favorite pieces, read our post here!
This antique prayer kneeler is a fine piece of devotional furniture. This type of furniture is also known as a prie dieu, which means "pray to God" in French. As you might be able to guess from its construction and name, this piece is designed to give you a luxurious place to pray! Every piece of antique furniture has its purpose. Some are made to store dishes, others are made to create a comfortable area in the home. Prie-Dieu prayer kneelers are a bit rarer but serve an important purpose nonetheless. This piece provides functionality and beauty to any Christian home decor. 
This antique French kneeler was beautifully handcrafted in walnut sometime in the late 19th century or early 20th century. If you follow antique furniture at all, you'll notice the trend of solid oak and walnut construction. This is because these are 2 sturdy woods that were in abundance in Europe. It is in excellent condition and looks as good as the day it was crafted a century ago. 
Walnut Prie Dieu
This French antique kneeler was crafted in the Gothic style, which is one of our favorites and a favorite among our customers. It's a perfect style for a Prie-Dieu to have, since the Gothic style came about in cathedrals! 
To see other Prie-Dieu furniture, check out a post about chairs in this style here!
Gothic furniture is distinguished by extravagant, one-of-a-kind artwork that incorporates Gothic architectural characteristics. Gothic furniture was intended to complement this architectural style, which is connected with church design. Gargoyles, flying buttresses, and quatrefoil and trefoil shapes are all common design elements in the furniture. Other features of this kind of furniture are pointed arches, tracery, heavy textiles, and heavy woods. 
Gothic Style Prayer Kneeler
Gothic furniture features ornate carvings, beautiful paintings, and elaborate sculptures and is thought to have originated in churches in the 13th century. The furniture, which was once featured in aristocratic homes, has changed over time and now boasts intricate, cathedral-style adornment. The furniture was quite popular in the Middle Ages, and often mirrored aspects in Gothic architecture on a much smaller scale.
Gothic Style at EuroLuxHome.com
The majority of the furniture is huge and solid, with deep, dark colors. In the Gothic style, sideboards and enormous chests protected and held valuables. The feudal lords were continually at war during the time, thus the furniture had to be moved around. To make things easier, designers incorporated chair backs and feet to chests. Tables, cupboards, seats, and beds have evolved over time to have a variety of beautiful motifs and distinct personalities. To learn more about the Gothic style, check out this encyclopedia entry.
This walnut Prie Dieu Gothic kneeler is in more than good condition. Feel free to reach out to us at info@euroluxhome.com to discuss pricing and shipping options if you're interested!
This antique French Louis XV style buffet is a sight to behold. This piece would make an excellent addition in today's homes, even a hundred years after it was originally crafted.
Notice the ornate carvings that adorn this fine piece of furniture. The top middle cabinet features a floral pattern that is typical of this style. Notice the detail of the acanthus leaves- the craftsman who created this work of art clearly had an eye for detail. We can only imagine that furniture like this would be a great conversation starter with guests as it makes its presence known in the living room. It would also make an excellent gift for the interior design enthusiast in your life. 
Elegant Luxury Style
This lavish look of the Louis XV period rose to popularity in the 18th century, and it was also influenced by the king's favorite mistress Madame du Pompadour. During this Golden Age of decorative style in France, the new look was attractive to the king's court.
Typical features of this French Rococo Louis XV style include ornate carvings including shells and wavy or watery shapes that look almost like frills. The shell is probably one of the most famous motifs of this period, often seen crowning a buffet or a bed headboard or on a chair rail. Read my Antique French Louis XV Buffet Client Spotlight to see more of this style.
In terms of top tier 19th century antique furniture, this piece has everything we love. From the wood frame to its ornate carvings, it's hard to imagine how this piece could be any better.
Louis XV Furniture at EuroLuxHome.com
Whether you're in the market for upholstered armchairs or marble top side tables, you're bound to be impressed by the quality and craftsmanship of this style. Similar to the baroque period, the ornamentation of these pieces is among the finest of the 20th century. We also have a wide variety of similar styles, including Louis XIV, Louis XVI, Regency, and Rococo style furniture. Maybe a piece from our selection of French furniture, such as a writing desk or dressing table is in your future. 
We love this style because each piece is so unique. Each bit of craftsmanship is like a time capsule- this furniture takes you back in time, and makes you feel just like you're in a 19th century court! To browse our selection, head on over to EuroLuxHome.com to see everything we have to offer! We also made a video with more detail on the piece, so check it out here.
You've had your favorite piece of wood furniture for years. Its served you well, through thick and then. But you've noticed that over the years, dust buildup and frequent use has the caused the piece to lose its luster. If you don't have knowledge of woodworking, polishing your old piece of furniture can be a daunting task. The truth is, you don't need to know all the types of wood, varnish, etc. to get your entire piece back in working order. If you've been wondering how to polish furniture, look no further than this DIY guide!
What Type of Furniture Polish Should I Use?
There are all sorts of furniture polish for wooden furniture available, so it can be hard to choose. For most wood furniture, you'll want to get one of the "semi-solid" polishes. These wood cleaning products work on most kinds of wood, just make sure to get one without silicone. Another name for this product is "paste wax" because that's basically its texture. These can be found at any hardware store, and online at places like Amazon and Home Depot.
Oil vs. Wax
These wax polishes provide some protection from the elements and grime. It is worth noting that while oil polishes can make your wood look great, they don't provide the same protection to your wood grain that thicker polishes provide.
DIY Furniture Polish
There are all sorts of other ways to make a wood surface shine. Some people elect to ditch factory made polishes entirely and use white vinegar mixed with olive oil or other household substances. Mineral oil is also a viable option. Some polishes are even made with beeswax, and can be applied to hardwood floors as well. This wax can also help in a pinch as a DIY way of buffing out scratches.
Furniture Polishing Technique
You'll need to use a soft cloth/clean cloth with a dollop of your furniture conditioner of choice. A microfiber cloth would also work, just make sure you aren't using anything too abrasive. If you have a spray bottle, you can use it to spray the surface instead. Wipe with circular motions until the surface is thoroughly polished. If there is still liquid left on the wood surface, you'll need to wipe it down with a dry cloth to remove the excess liquid. 
We hope you found this brief guide to furniture polishing helpful. If you're interested in browsing our selection of fine antique furniture, you can do so at EuroLuxHome.com. If you'd like to learn more about furniture repair, check out our in-depth guide here!
Scratched wood furniture can be a pain. As antique furniture dealers, we've come across hundreds of amazing pieces that needed a touch up. It can seem like a daunting task, but if you're dealing with blemished home decor, don't stress. There are tons of ways to go about fixing the problem. Some are orthodox, and others are...more creative. By the end of this article, we think you'll be prepared to make your dented or scratched piece of furniture look as good as new.
1. Use a Furniture Crayon
A furniture crayon can be used to cover a scratch or shallow dent in scratched wood furniture. You can find them for sale at basically any hardware store, or online on sites like Home Depot. All you have to do is rub over the affected area with the furniture crayon to fill it in.
Don't forget to wipe down your wood furniture afterward!
It may be a good idea to wipe over the area with a paper towel or dry cloth to remove any excess wax. And make sure to use the right color or the area will stick out like a sore thumb! For more on the ins and outs of furniture crayons, you can check out our post here!
2. The Iodine Method (for Dark Wood Furniture)
Iodine can also be a great way to cover furniture scratches, especially for pieces crafted from a darker wood. Iodine can be bought at most major stores, and has a variety of uses. Our favorite is making furniture look great! Just apply Iodine using a cotton swab or Q-tip. Wipe away the excess liquid afterwards. This is an important step because it prevents the chemical from staining the rest of the piece. Note that this method is not ideal for lighter colored furniture, as it will stand out against light colors.
3. Olive Oil and Vinegar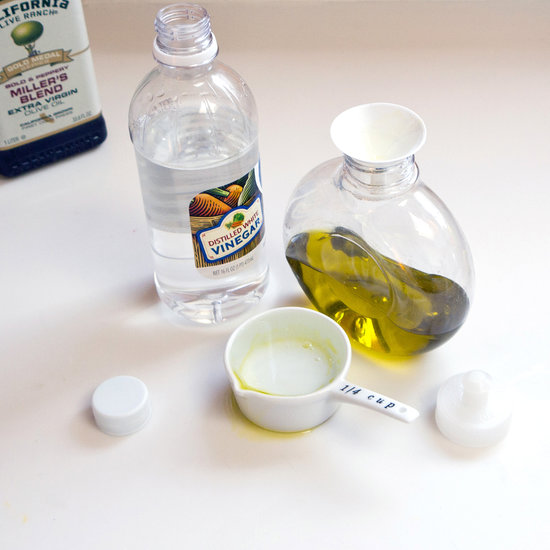 All this method requires is a few household items: olive oil and vinegar. This might be the easiest way to fix scratched wood furniture at home. You'll want to make a solution of 1 part vinegar and 2 parts olive oil. Mix them together, and then use a cloth or cotton swab to rub over the scratched part of your furniture. Once again, use a dry cloth or paper towel to wipe away any excess liquid to prevent stains and smells!
4. The Walnut/Pecan Method
Using a walnut or pecan to repair a furniture scratch might sound nuts, but it works! You'll want to use the meat of the nut, not the shell. Using the shell will scratch the piece. Gently rub over the scratch with the nut until it fills in. This works because the meat of the nut is softer than the wood. We wouldn't suggest eating it after, but hey, to each their own. 

Hopefully this guide has been helpful to you in your quest to get those pesky scratches out. For more information on scratched furniture repair and other furniture repair tips, you can check out our guide here! If you have any questions, we'd be happy to help at info@euroluxhome.com. 
So your favorite piece of furniture has seen better days. Maybe it needs a touch-up and some refinishing. Maybe there are deep scratches, or a missing leg. DIY furniture repair can seem like a daunting task. Fortunately, there are plenty of home improvement resources available online. By the end of this post, we hope you'll be better prepared to give your old pieces the furniture makeover they deserve.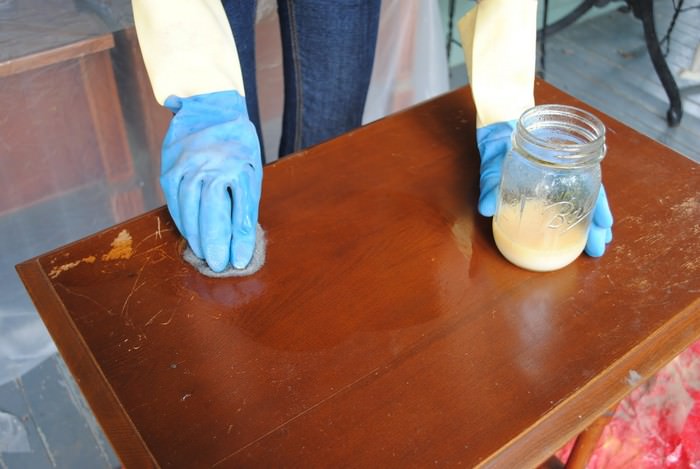 Repairing Scratched Furniture
Nothing puts a damper on quality woodworking like gouges and scratches. As furniture lovers, it's a sad sight to see a beautiful lacquer go to waste. If the scratch is minor, you can use a lower grit sandpaper to gently rub over the affected area. Avoid using any heavy duty sanders as they can cause more damage to a finish.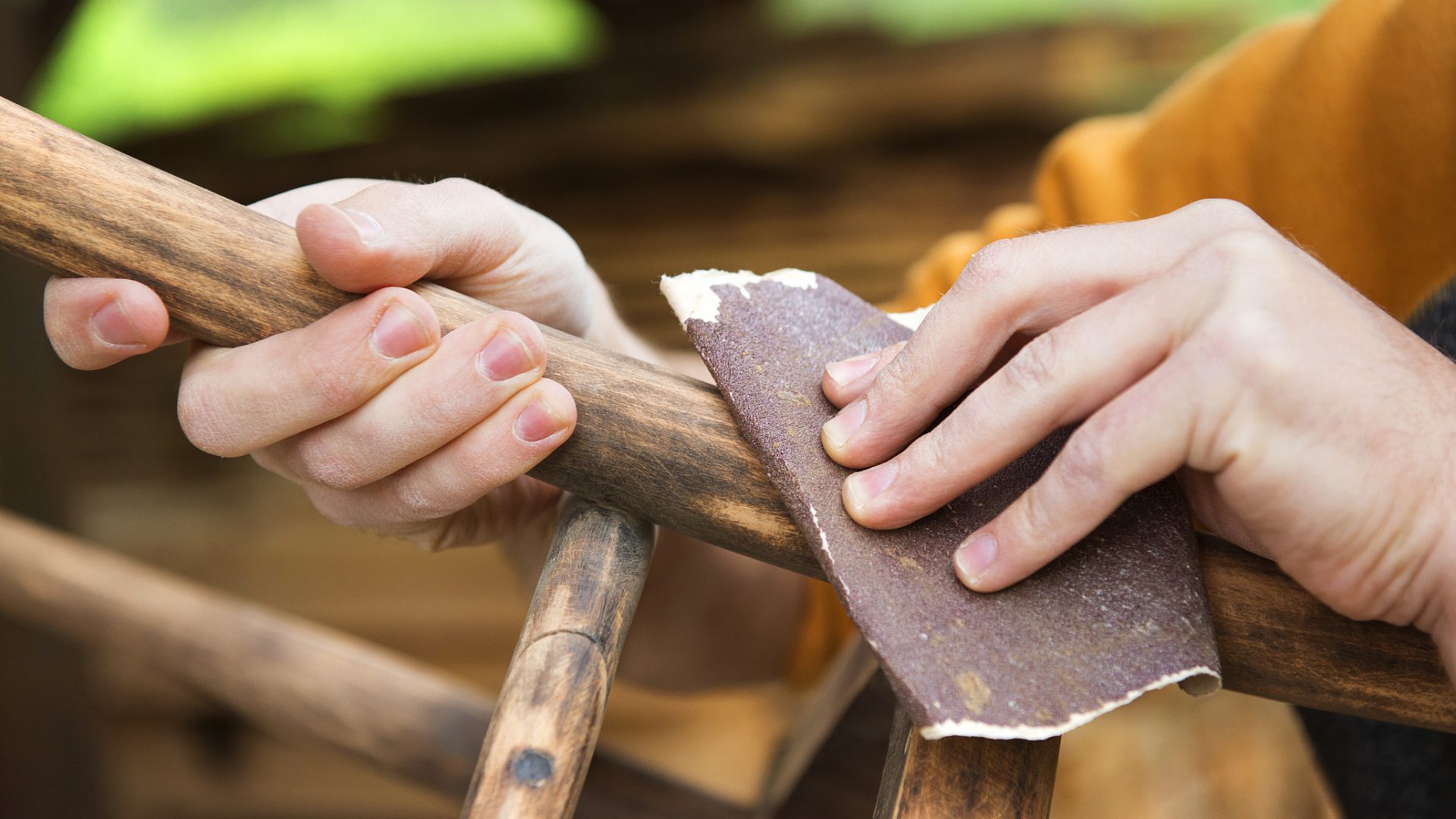 For some minor scratches and scuffs, a furniture crayon can get the job done. You use these as, well, a crayon. Just "color" over the scratched area like you would with a standard wax crayon. It's worth noting that this fix is more temporary than some of the others we'll talk about. However, it gets the job done. It's best to use for light surface scratches, and make sure that you use the proper color (darker crayons for dark wood, light crayons for light material, etc.). For more on how to use furniture crayons to their full potential, check out our guide here!
Advanced Furniture Scratch Repair
One common technique for dealing scratches is to use a cotton swab with iodine to wipe down the scratch. You'll want to immediately wipe over the spot with a paper towel, to prevent the iodine from staining the rest of your wood grain. However, some damage to wooden furniture will require more attention.
One of the most entertaining ways we've seen folks repair their piece is with a walnut or pecan. Yes, it sounds nuts. But since the nut is at the right hardness and filled with the right oil, a gentle rub can be enough to fix scratches. We wouldn't recommend eating them afterwards, but who are we to judge?
Regardless of which of these techniques you choose, one thing is sure- damaged wood surfaces aren't a death sentence for your favorite furniture! All of the materials you need to repair scratches can be found online, at hardware stores, or sometimes growing on trees if you're feeling adventurous. In fact, there are so many options, we can't list all of them.
Time for Putty!
If you need to repair furniture with deeper crevices such as deep dents or nail holes, furniture putty is the way to go! This material is usually a combination of paste and wood shavings, so don't worry about it harming your piece. Once you've sealed the hole, you'll want to scrape over the damaged area with a putty knife, utility knife or dull razor blade to smooth things out.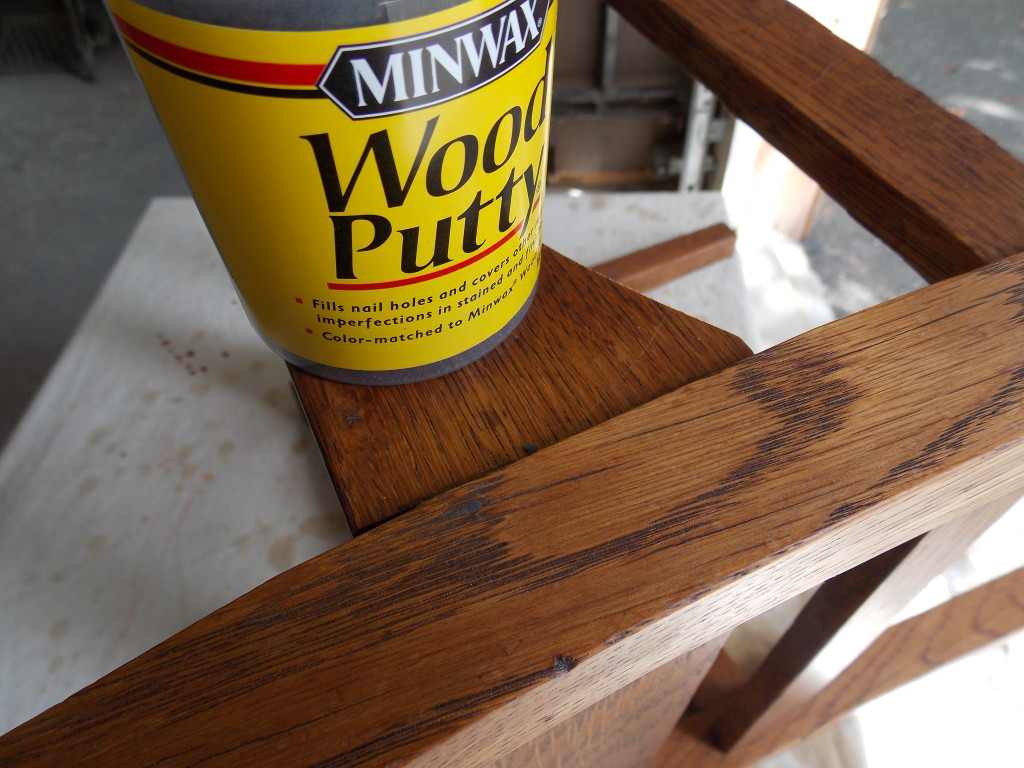 Wood Putty vs. Wood Filler
Don't confuse wood putty with wood filler. You won't want to use most wood fillers for outdoor furniture, since outdoor furniture can expand and contract when exposed to the elements. This small change can cause the filler to crack, damaging your furniture, and leaving you back at square one! All of these products are readily available online, from online furniture stores like EuroLuxHome.com or places like Home Depot. 
Making Your Wood Furniture Shine
Sometimes, all furniture needs is a little bit of TLC to make it shine. Just because a piece doesn't have dents or a missing leg doesn't mean it can't be improved! Anyone can purchase a quality furniture polish from their local hardware store. But if you're in a hurry, you can do it with normal household products too. 3 tablespoons of white vinegar, 1 tablespoon of olive oil, and a small spray bottle is all you'll need. Mix the oil and vinegar, and then spray a few sprits on your furniture. You'll want to wipe down your tabletop quickly with a dry cloth afterward, to prevent it from smelling. This is something of a life hack, and is a great way to give your piece a new shine in a pinch.
Putting Old Furniture Back Together
Some pieces of wood furniture are irreplaceable. At EuroLux, we've given countless antique furniture pieces a new lease on life. The right knowledge and materials, and a little bit dedication is all you'll need. It's worth noting that significant damage is best fixed by a professional or someone with some experience. Larger pieces like sideboards and dressers can be difficult for untrained hands.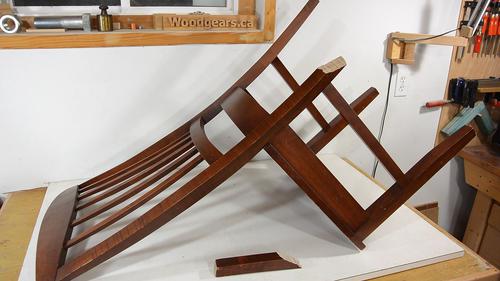 However, if you just need to put a leg back on a chair, you've come to the right place! To put your favorite piece back together again, simply apply superglue or epoxy resin to the affected area and stick it back together again! Try to lather it up on the inside of the broken area so the material doesn't seep out. Some of the methods mentioned above for repairing wood scratches can be used to cover the surrounding wood and make the piece look like it never broke to begin with! Extensive damage can make it a good idea to contact a professional. To learn when it's best to contact a furniture pro, check out our post about the subject.
We hope this post has been useful to you in your quest to repair furniture. At EuroLux, we've been collecting and repairing furniture for years. You can check out our selection of high-quality antique and modern furniture at EuroLuxHome.com
If you're into old furniture, you know nothing makes a statement in your home quite like a quality antique bed. Something about the class and style of these pieces keeps designers coming back. Simply put, they don't carve bed frames, headboards and footboards quite like they used to! In the age before machine carving, the quality of bedroom furniture was decided by the skill of the craftsman and the quality of materials. Each piece was crafted in its own unique way, without the standardized sizes and parts. What does that mean for furniture enthusiasts looking to add antique style to their bedroom? And how do you go about choosing the right antique bed for your home?
In this post, we'll go over some of our favorite styles of 19th century and 20th century beds, as well as go over some of the ins-and-outs that will make your interior decorating life easier.
The Best Antique Beds
Whether you're looking for a taste of the French countryside, or the prestige of a London palace, an antique bed is a great place to start.
Victorian
Named after Queen Victoria and the era of English prosperity she helped to usher in,  this style is sure to make you feel like royalty. Often crafted from solid woods such as antique oak, a Victorian style piece would be a great fit in your elegant bedroom set. This is a relatively popular style, so it won't be too difficult to find other antique furniture to complement your bedroom's centerpiece. Victorian beds always impress. Similar styles include the Regency style. 
Louis XVI
The Louis XVI style, as you may be able to guess because of its name, is an antique French furniture movement. Characteristics of this style include taking a neoclassical approach, which means there are themes and motifs from ancient Greek architecture. Whether you choose a rosewood, oak, or mahogany bed in this style, we think you'll be impressed.
What You Should Know About Antique Beds
Whether you choose an iron bed, 4-poster bed, canopy bed or brass bed, picking the right antique piece can be a journey. There are more elements to take into account than just looks. For example, since these pieces were crafted before standardized sizes, you may need to get a customized mattress to fit the bedframe. In the old days, there weren't king size beds, queen size beds, full size beds or double beds- they were tailored to the requirements of the user. If you need a custom mattress designed for one of your bed frames, here is a good place to start. One thing is certain- whether you choose a Rococo, Louis XV, Mid-Century Modern, French Country, or Art Deco bed, you'll be making a style statement in your antique bedroom or guest room. We wrote a post covering all of the staples of bedroom furniture. If you're interested in learning more, you can check it out here.
At EuroLuxHome.com, we have a wide selection of antique bed frames and bedroom furniture. From sleigh beds to daybeds, our collection has something for everyone.
So you're renovating your bedroom. You've picked out a new bed that fits your color scheme, arranged your curtains, and decided what to do with your wall space-what's left? A bedroom dresser. Not only are dressers essential pieces of bedroom storage, providing plenty of room for clothes, but they're a great way to bring your space together. In this post, we'll talk about what to look for when picking yours out, and show a few pictures of some of our favorites. With so many wonderful options on today's furniture market, it's hard to keep track of them all! Whether you're looking for a chest of drawers, solid wood headboard or other bedroom furniture, you've got options.
For a synopsis of bedroom decor in general, head on over to our post here.
Bedroom Dresser Styles
For those decorating their sleeping space, there are a wide variety of styles available to choose from. We've even seen customers decorate their entryways and living rooms with a quality 4-drawer dresser. Below are just a few of the many styles you could consider.
Victorian
Among our best sellers are Victorian style bedroom dressers and bedroom chests. These will bring a Dickens-ian type of luxury to any space. Many of these were crafted in the early 20th century, a contrast from more modern pieces. A quality antique dresser that has stood the test of time is a great way to spice up your home decor.
Mid-Century Modern
For something a little more recent, we'd recommend the Mid-Century Modern. Despite being a vintage movement, some pieces in this style look more futuristic than today's furniture! You will be drawn to the sleek lines and smooth color schemes. Paired with the right end table or bed frame, a quality vintage dresser could bring your entire space together. Regardless of your preferred size and number of drawers, there is something in this style for everyone!
For more information on this movement, check out our post about it here!
Rustic
Rustic decor is a natural, old fashioned style that still brings much to the table! These bedroom dressers are a great fit for those with a log cabin, or those who want to create that effect! The warmth and sophistication of these pieces will be the first things you notice.
Where to Place Your Bedroom Dresser
Now that you've picked out your new favorite piece of furniture, it's time to decide where to put it! Generally speaking, a good place to put your antique or modern dresser is to the side of your bed, against the wall. You don't want it to be to close, as it will be hard to get out of bed! But you still want it to be within a few steps. After all, a big reason dressers are so useful is their accessibility! We've had customers that find them so useful, they put them in their home office!
Whether you choose a small dresser, 6-drawer dresser, 5-drawer chest or even an entire bedroom set, we hope this post has been useful to you in your journey of bedroom decor. If you're in the market for a new piece, we'd be happy to help over at EuroLuxHome.com! You can check out or bedroom dressers on this page. Our new arrivals include other furniture such as bookcases, sectional sofas, dining room furniture and more!