Just because the various paint and color trend companies release their 'Colors of the Year', it doesn't mean that we all want to run out and change our color scheme! But it's great to see the colors chosen each year. Sometimes they shake up my ideas about home decor, just in case I'm falling into a rut. Even if I don't want to use the paint color on my walls, the Colors of the Year might inspire me to try a new color as a decorative accent.  Let's take a look at the paint Colors of the Year for 2015.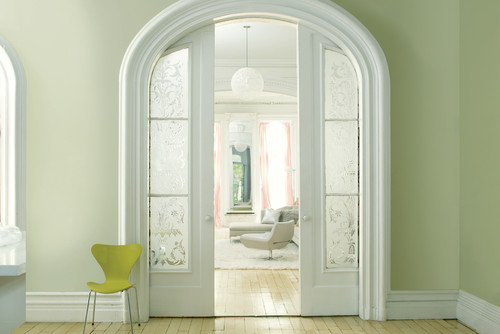 I'm starting with the paint color that I think is the most accessible for most people. Benjamin Moore's 2015 Color of the Year is Guilford Green HC-116. It's a serene silvery green from Benjamin Moore's Historic Color collection. The Historic Color paints are all inspired by  colors found in buildings from the 18th and 19th centuries. Maybe that's why I like it so much!
The next shade with broad appeal is Pantone's Color of the Year: Marsala. It's a deep red-brown shade that can look earthy, sophisticated, or dramatic, depending how you use it.
Now, excuse me for blowing my own trumpet, but I was inspired to write a post about Red Wine Colored Decor a few months ago. The rooms I showed were very similar to the Marsala shade, but I promise you I had no idea that Pantone was promoting Marsala for 2015. Hey, I'm more on-trend than I thought I was! This is one of the rooms from that Red Wine Colored Decor post.
Next up are the more adventurous hues for 2015... starting with the Sherwin-Williams Color of the Year. The paint color is called Coral Reef, and you can see why.
The lively mix of pink, orange and red is probably best used in small doses, for an accent wall or a smaller room like the hallway in this photo. It looks fresh and pretty glimpsed against the softer peach of the kitchen walls and the clean white trim.
Sherwin-Williams also suggests that you might try using the Coral Reef color to paint a piece of furniture. We can help with that! We have many types of coral painted furniture in our gallery, like this arched coral wall cabinet.
Although the newly crafted wall cabinet is not painted with the Sherwin-Williams Coral Reef color specifically, I think it's a pretty good match if you want the look but don't want to paint your walls coral. An accent piece of furniture like this gives you a charming dash of the trend color without taking over the house!
Finally, the PPG PIttsburgh Paints Color of the Year is the boldly saturated Blue Paisley
.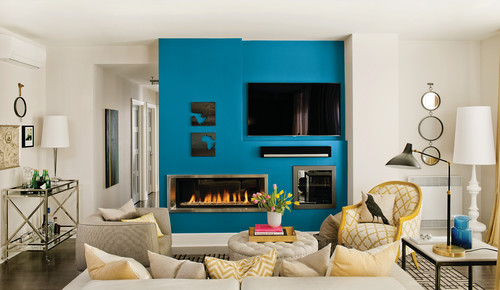 Other by Allison Park Paint & Wall Coverings PPG Pittsburgh Paints
This green-hued blue really is electric, isn't it? A bolt of the color on an accent wall or in color blocking will give a powerful wake-up call to a room. I can imagine it creating a lush tropical mood in a beach cottage or condo. I can also picture it looking glamorous in a petite powder room, with a contrast of crisp white or sunny yellow.
What do you think of the paint Colors of the Year for 2015? Do any of them tempt you, and how might you use them in your home decor?
Aimee owns EuroLuxHome.com with her husband and best friend, Greg. Aimee sources amazing antique furniture, vintage lighting, & high-quality reproduction furniture to help her customers decorate their homes in a unique way. She loves her 8 (you read that right) fuzzy children and is renovating a 1920s bungalow in South Carolina. Find us on Facebook or connect with EuroLux on Google+. Or you can sign up here to receive this blog in your inbox.