Imagine this exquisite antique French Hunting style buffet in your library, home office, corridor, or living room, housing your collection of books while also serving as a lovely ornamental focal point. The antique Renaissance Hunting style buffet/bookcase comes from approximately 1880 and is a genuine import from France. It's beautifully carved and has a lot of interesting features. The lower doors feature a fox on one side and a hunting hound on the other, while the bookcase is constructed of oak with a lovely weathered patina. To see a video of this piece, check out our youtube channel here!
The Hunting Style
This is typical of the classic Hunting style, which dates back to King Francis I of France, who chose to furnish his royal hunting lodges with furnishings that emphasized the hunt's rural setting. The two creatures are sculpted with extraordinary lifelike detail. Because the fur on the dog and the fox appears to wave with the movement of the animals, the carver must have seen a lot of dogs sniffing for the scent! Other carvings include leafy greenery and a shield. Chicken wire is used on the upper two doors to give them a rustic hunting aspect. This lovely 1880 antique French Renaissance Hunting style bookcase has enough storage in the main and lower cabinets, as well as two drawers.
Hunting Buffets are always a great choice!
Nothing adds style to your home quite like an antique buffet or sideboard. Whether it's a marble top Louis XV piece or an antique oak buffet with a hutch, one thing is sure- this type of furniture makes a statement. One of the best things about these is that you can put them anywhere, from the entryway to the dining area. They're great as storage cabinets, allowing you to store linens and other belongings. The fact that so many antique sideboard buffets from the 19th century still exist is a testament to their durability. Whether it's a solid oak, teak, inlaid, or mahogany buffet, you can be assured that these pieces will last a lifetime and then some. There's something for every taste, whether that's Jacobean or Art Nouveau. 
Hunting Style Furniture at EuroLuxHome.com

This antique bookshelf, like many of our antique furniture, was made in the nineteenth century and adds both usefulness and flair to your home design. A well-made vintage wood piece of furniture is always a solid addition to any room. This piece has plenty of storage space, so it might make a terrific solid wood library bookcase. It's possible that you'll be enticed to put its storage shelves in your dining room! We have a large selection of antique furniture styles at EuroLuxHome.com. We have furniture that exhibits the greatest level of craftsmanship, whether you're looking for Edwardian, George III, French Country, Georgian, Regency, Art Deco, Victorian, French Provincial, or Mid-Century Modern. If the Hunting style intrigues you, check out our post here about a Hunting style bed.
Our customer, Raymond, is thrilled with his new secretary desk! This fantastic new desk and bookshelf, inspired by Old World European furniture designs, will look fantastic in your home. The piece, which stands nearly 8 feet tall and is capped with a swirling scroll pediment, is crafted with a stunning mahogany finish. Individual beveled glass panes adorn the bookcase over the desk in an attractive pattern. The secretary desk unfolds to show a leather writing surface, as well as numerous drawers and pigeonholes, as well as a middle cabinet, to keep your writing utensils and documents organized. Even extra storage is available in the lower drawers. The secretary desk and bookcase's old-fashioned look is enhanced by brass-tone fittings. It stands on carved bracket feet that not only look great, but also make cleaning below the desk a breeze! The new secretary desk and bookcase has a height of 92 inches, a width of 38 inches, and a depth of 20 inches.
What is a Secretary Desk?
Despite its name, a secretary desk is more commonly found in homes than in businesses. The secretary desk's fundamental design consists of a set of drawers topped by a fold-out desk, with a set of shelves or a hutch sitting on top. The basic design is fairly old; preserved antique examples from the 1500s and maybe earlier imply that the desk was commonly used at the period. Many people keep a secretary desk at home to use as a small workplace or a family organizing area. Modern offices tend to use a different styled desk design with more room to spread out and slightly less private storage, but many people keep a secretary desk at home to use as a small workplace or as a family organizing area.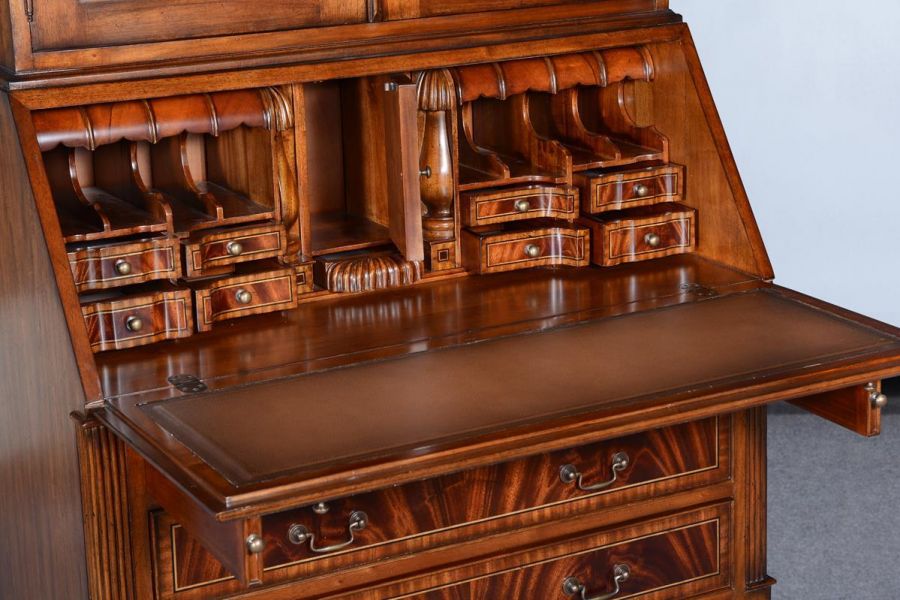 Where Should I Put My Secretary Desk?
They can be a nice addition to your living room, or in your workspace as a fixture in your home office. This piece of furniture also has applications in the entryway or dining room. There are many iterations of this solid wood writing desk. There are older, Chippendale versions that bring a classic appeal to your home decor. You can also browse a selection of Mid-Century Modern desks if your taste is more modern. If you want some help picking one out, we wrote this little guide that youcan read here!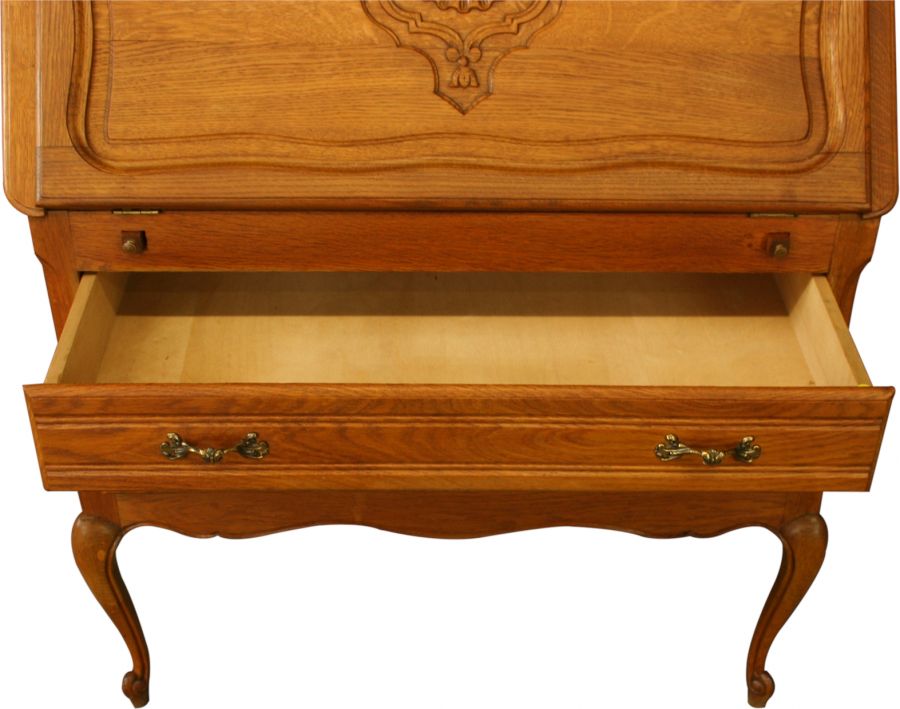 Home Office Furniture at EuroLuxHome.com
At EuroLuxHome.com, we have a large selection of secretary desks. We can set you up with a small secretary if you have a small space to work with. Our selection of genuine antique secretary desks is multifunctional, providing both style and storage space to your interior design. If wood secretary desks aren't your cup of tea, we have other office desks as well, ranging from computer desks to corner desks and more. One thing is sure- if you're looking for home office furniture, EuroLux is the place to be. You can browse our office furniture here!
This antique prayer kneeler is a fine piece of devotional furniture. This type of furniture is also known as a prie dieu, which means "pray to God" in French. As you might be able to guess from its construction and name, this piece is designed to give you a luxurious place to pray! Every piece of antique furniture has its purpose. Some are made to store dishes, others are made to create a comfortable area in the home. Prie-Dieu prayer kneelers are a bit rarer but serve an important purpose nonetheless. This piece provides functionality and beauty to any Christian home decor. 
This antique French kneeler was beautifully handcrafted in walnut sometime in the late 19th century or early 20th century. If you follow antique furniture at all, you'll notice the trend of solid oak and walnut construction. This is because these are 2 sturdy woods that were in abundance in Europe. It is in excellent condition and looks as good as the day it was crafted a century ago. 
Walnut Prie Dieu
This French antique kneeler was crafted in the Gothic style, which is one of our favorites and a favorite among our customers. It's a perfect style for a Prie-Dieu to have, since the Gothic style came about in cathedrals! 
To see other Prie-Dieu furniture, check out a post about chairs in this style here!
Gothic furniture is distinguished by extravagant, one-of-a-kind artwork that incorporates Gothic architectural characteristics. Gothic furniture was intended to complement this architectural style, which is connected with church design. Gargoyles, flying buttresses, and quatrefoil and trefoil shapes are all common design elements in the furniture. Other features of this kind of furniture are pointed arches, tracery, heavy textiles, and heavy woods. 
Gothic Style Prayer Kneeler
Gothic furniture features ornate carvings, beautiful paintings, and elaborate sculptures and is thought to have originated in churches in the 13th century. The furniture, which was once featured in aristocratic homes, has changed over time and now boasts intricate, cathedral-style adornment. The furniture was quite popular in the Middle Ages, and often mirrored aspects in Gothic architecture on a much smaller scale.
Gothic Style at EuroLuxHome.com
The majority of the furniture is huge and solid, with deep, dark colors. In the Gothic style, sideboards and enormous chests protected and held valuables. The feudal lords were continually at war during the time, thus the furniture had to be moved around. To make things easier, designers incorporated chair backs and feet to chests. Tables, cupboards, seats, and beds have evolved over time to have a variety of beautiful motifs and distinct personalities. To learn more about the Gothic style, check out this encyclopedia entry.
This walnut Prie Dieu Gothic kneeler is in more than good condition. Feel free to reach out to us at info@euroluxhome.com to discuss pricing and shipping options if you're interested!
This antique French Louis XV style buffet is a sight to behold. This piece would make an excellent addition in today's homes, even a hundred years after it was originally crafted.
Notice the ornate carvings that adorn this fine piece of furniture. The top middle cabinet features a floral pattern that is typical of this style. Notice the detail of the acanthus leaves- the craftsman who created this work of art clearly had an eye for detail. We can only imagine that furniture like this would be a great conversation starter with guests as it makes its presence known in the living room. It would also make an excellent gift for the interior design enthusiast in your life. 
Elegant Luxury Style
This lavish look of the Louis XV period rose to popularity in the 18th century, and it was also influenced by the king's favorite mistress Madame du Pompadour. During this Golden Age of decorative style in France, the new look was attractive to the king's court.
Typical features of this French Rococo Louis XV style include ornate carvings including shells and wavy or watery shapes that look almost like frills. The shell is probably one of the most famous motifs of this period, often seen crowning a buffet or a bed headboard or on a chair rail. Read my Antique French Louis XV Buffet Client Spotlight to see more of this style.
In terms of top tier 19th century antique furniture, this piece has everything we love. From the wood frame to its ornate carvings, it's hard to imagine how this piece could be any better.
Louis XV Furniture at EuroLuxHome.com
Whether you're in the market for upholstered armchairs or marble top side tables, you're bound to be impressed by the quality and craftsmanship of this style. Similar to the baroque period, the ornamentation of these pieces is among the finest of the 20th century. We also have a wide variety of similar styles, including Louis XIV, Louis XVI, Regency, and Rococo style furniture. Maybe a piece from our selection of French furniture, such as a writing desk or dressing table is in your future. 
We love this style because each piece is so unique. Each bit of craftsmanship is like a time capsule- this furniture takes you back in time, and makes you feel just like you're in a 19th century court! To browse our selection, head on over to EuroLuxHome.com to see everything we have to offer! We also made a video with more detail on the piece, so check it out here.
Every once in a while, we get a high quality piece of furniture that we can't help but write about. This antique French sideboard is one of those pieces. This oak sideboard has everything we look for in a piece of antique furniture. It's sturdy. It's made of quality material. Its craftsmanship has withstood the test of time. For a piece to survive long enough to become antique, it takes skilled carpenters. Whoever crafted this Henry II Buffet Server clearly knew what they were doing. With the aged wood, it likely looks better than the day it was created!
There is something commanding about the presence of an antique sideboard. Maybe it's the hours of work it takes to create one. Or it's the attention to detail that a quality piece demonstrates. Maybe it's the sheer scale. There are many types of quality pieces of furniture in this style that could make a great addition to your home. But we are particularly impressed by this one.
Quality Craftsmanship
Crafted around the late 19th century or early 20th century, this wood sideboard provides shelving for storage space in addition to its style! Using solid woods such as solid oak make it able to store heavier items. You'll find that a piece like this is a great way to store collectibles! You will notice the intricately carved oak cabinet doors of this antique buffet, making you feel like 19th century royalty. Most antique oak furniture has this effect.
Like most antique and vintage sideboards, we'd recommend you place this in your dining room or living room. We can set you up with dining furniture such as a dining table, or a bookcase or credenza to match! A quality buffet could also look great in your entryway or home office. Regardless of whether you choose to put a 2-door sideboard like this one, it's going to impress. Use it for style, use it for storage, or use it for both! One thing is sure when you're shopping for antique sideboard buffets: you're getting versatility.
Antique Sideboards at EuroLuxHome.com
At EuroLuxHome.com, we've got all sorts of antique furniture available. From Victorian walnut sideboards, to antique English dining room furniture, to marble top mahogany sideboards with a hutch and more, we've got the furniture to meet your needs. From Louis XV to Mid-Century Modern, Arts and Crafts, Queen Anne and more, each piece from our collection is sure to become the focal point of your home. With quality materials like rosewood, pine wood, teak and more, this furniture is built to last.
Lavishly carved and very substantial, this superb antique Louis XV Rococo style antique sideboard is a direct import from France from one of our recent antique buying trips. Dating to around the late 19th century/early 20th century, the antique French piece of furniture in the Louis XV Rococo style is crafted in oak wood and it boasts the handsome patina of age. It also displays the carving skills of the French craftsmen who created it more than a century ago.
A Perfectly Carved Antique Sideboard
The shell carving on the back of this lovely antique sideboard is typical of Rococo styling. The face of the doors and drawers are also covered with gorgeous frilly carvings. Don't they look wonderfully pretty against the dark aged wood? The sideboard offers plenty of storage space in the cabinet and drawers. You will have everything you need when you are entertaining friends or sharing a family meal. Measuring nearly 7 feet long and standing proudly on sturdy and attractively shaped feet, the antique French sideboard in the Louis XV Rococo style will look great in a Traditional dining room, living room or hallway.
Jodie found us on Ebay and the sideboard certainly looks amazing in her gorgeous French chateau-inspired entryway. Notice how the piece blends with her beautiful rose-colored rug, the hand-planed parquet floors, the stunning crystal chandelier, the pair of iron sconces and of course the huge arched doors allowing light to stream in. It looks almost like a Gothic Cathedral! This incredible piece of antique furniture could be a great fit alongside your other solid wood furniture, a high quality addition to any style of room, whether it's French Country, Art Deco, Art Nouveau, or Victorian.
Other Buffets and Sideboards
Sideboards are a great addition to any space. Whether it's an inlaid Jacobean sideboard or a Carved Walnut/Oak Buffet, they bring an element of versatility to any room. Whether you need shelving, an oak sideboard with a hutch, or a mid century modern piece, we've got the large antique furniture selection to meet your needs. Feel free to browse our collection of sideboards, including Art Deco Sideboards, Credenzas, Georgian pieces, and many more! Maybe a piece with a marble top is what you need. Maybe you're in the market for a carved oak vintage sideboard to complement your bookcase. The point is, you've got options.
Few pieces add a regal feel to your decor like antique armoires. A versatile type of furniture, an armoire can bring a sense of elegance to your room, while also providing the practical benefit of ample storage space for anything you choose, be it clothes, linen, jewelry, or even weapons. At EuroLuxHome.com, we have a wide selection of these sturdy, time-tested pieces, and over the years, we've learned the finer points of the style. Hopefully by the end of this post, you'll be an expert on them too.
What exactly is an armoire?
The first thing to understand is that the term can mean a lot of things. An armoire is essentially a large cabinet or wardrobe. Most feature at least one paneled door on the exterior. Many of the pieces we carry also feature a shelf for more storage space. Antique armoires are generally crafted from sturdy wood such as walnut, oak, or mahogany. This structural integrity is why so many of these pieces last long enough to become antique, as most of our armoires were created circa the 19th century.
Depending on the antique piece, you may also find a few with a glass door, giving the piece the ability to be used to display valuables. For those who wish to use them as a wardrobe, some armoires also contain a beveled mirror. Many people also use them as a bookcase, perhaps even adding a shelf to create more room. With the versatility of this style, chances are that every home could put one to good use.
Many of these pieces could be used as storage cabinets, many featuring a chest of drawers. Some folks use this one-of-a-kind furniture as a wardrobe armoire.
Where should I place my antique armoire?
Depends on what you want the piece to do! We've had customers place them anywhere from bedroom to dining room to living room. Many customers use them as an antique wardrobe, giving a rustic charm for their bedroom that can't be matched by a traditional linen closet. As mentioned before, the storage space provided by an old armoire lets you store more clothes than you could reasonable wear. Some of our armoires also contain a drawer to build on this benefit. Sturdy, quality wood enhances the decor of a bedroom while also serving a practical purpose.
Antique armoires are also a great choice for anyone looking to enhance their dining room decor. Some feature a mirrored door, which can create a sense of more space in the room as you dine with guests. We've even seen people use them as cupboards Pieces that feature a glass door and shelf allow for the display of valuables, such as dishes or fine china. The ability of an antique armoire to blend with other pieces of antique furniture while providing more storage space ensures that your beautiful piece is also practical.
What are the different styles of antique armoire?
There are too many to count, so we'll just discuss the common styles, and the styles we carry at EuroLuxHome.com. Our personal favorite is the antique French armoire. Simply put, the French have a certain knack for creating antique furniture. These pieces feature immaculate carvings, demonstrating an elite attention to detail. A standard antique French armoire features 2 or more wooden doors, and sometimes a glass door. The wood used to make these pieces is usually oak or walnut-something sturdy. However, we have also carried antique French armoires crafted from mahogany.
Another popular style of antique armoire is the classic Farmhouse style. These pieces are all about rustic charm. They tend to be less dramatic than other types, creating a more home-style atmosphere. Like other armoires, these usually feature one or more wooden doors, with the capacity to have a glass door as well, depending on the craftsmen. These pieces usually feature a wood finish, making it perfect for any cottage. Other styles include French Provincial, Art Deco, French Country, Victorian, Art Nouveau, Rococo, Louis Philippe, and Louis XV style. No matter which you choose, it is sure to demonstrate master craftsmanship.
From cabinet door to pediment, you can't do much better for your home than by picking up your own antique armoire. This style of antique furniture is timeless, and provides the boost to your decor and storage space that interior designers drool over. We have a wide selection of these beautiful pieces on our website here, so check it out!
Renaissance style furniture is one of the most popular styles of antique furniture in our online store EuroLuxHome.com because it has a timeless elegance and nobility and it is easily adaptable to today's homes. If you don't know the history of Renaissance style furniture and how to recognize it, here's your guide to help you decorate your own home with this refined and classic look.
The Origins of Renaissance Style Furniture
The Renaissance period -- meaning "rebirth" -- emerged in Italy in the 15th century and lasted well into the 16th century. This period was a pivotal cultural movement that marked a huge shift in thinking, science, and art in Europe. The Italian Renaissance is the most well known, but this cultural shift was evident across the world. This exciting period was a bridge between the medieval period and the pre-industrial modern age and amazing Italian craftsmen and artists like Leonardo da Vinci and Michelangelo rose to fame. The new aesthetic in arts and architecture was inspired by the classical arts of ancient Rome and Greece. Rich aristocrats like the Medici family in Florence flaunted their wealth, good taste and artistic patronage by furnishing their fabulous homes, as well as public buildings, with impressive furniture with ornate carvings in fine wood. The Roman and Greek influences resulted in classical shapes and motifs, including mythological motifs, becoming a common theme in the decorative arts. Many of these works can be still be found in historic places across Europe.
Renaissance Revival Furniture
The Renaissance era had such a deep impact that even hundreds of years later, craftsmen were still trying to emulate its accomplishments. This furniture style became popular again in 19th century France. People in the newly affluent middle class after the Industrial Revolution were keen to furnish their homes with large, opulent furniture with heavy carving to display their new status. The antique Renaissance style furniture that we sell today is from this Revival period, dating to the late 19th and early 20th century and imported from Europe. This is the same era as the Victorian age (sometimes called the 2nd English Renaissance) in Great Britain, which shared a lot of the same looks, values, and art. If you have a Victorian Renovation home, you can happily decorate with Renaissance Revival furniture!
Typical Renaissance Style Furniture Features
When browsing this style of antique furniture you can expect to see:
When browsing this style of antique, revival style furniture, you can expect to see:
Large proportions and sturdy silhouettes are a key part of this furniture design.
Mostly hand-carved, heavily-carved ornamentation, and beautiful ornate carving across the fronts of cabinets and buffets.
Classical motifs included scrollwork, arabesque designs, flourishes, garlands of flowers and fruit.
Greek and Roman mythological references carved into the wood-these include mythic creatures, plus lions, cherubs and human faces, as well as grotesque faces that remind us of gargoyles.
Classical era decoration, such as arches, pediments, cornices and columns on furniture hark back to ancient Greek and Roman architecture.
Galleries of spindles add to the architectural style and also serve as plate racks on buffets and servers.
Finials on buffets and chair backs add a regal finishing touch.
Furniture wood is most often dark oak or walnut.
Veined marble is used in heavier furniture making, like for tops on buffets, servers and sideboards.
Brass or metal handles sometimes adorn the backs of dining chairs.
Rich upholstery includes tapestry style fabrics, silks, jacquards and brocades. Also leather and embossed leather upholstery on dining chairs, like this set of six antique French Renaissance Henry II style dining chairs dating to 1900.
Different Renaissance Furniture Styles
Several distinctive styles emerged during this Renaissance Revival period. The most popular with our customers are:
Renaissance Henry II style
With a focus on classical symmetry and architectural influences, the dignified Renaissance Henry II style often boasts carved arches and columns, imposing pediments and decorative finials. This regal style especially appears in dining chairs and in buffets and servers. See more details in my blog post What is the Renaissance Henry II Style of Furniture?
French Hunting Style
Antique French Hunting style furniture was also a key look in this Renaissance Revival era. Our Guide to French Hunting Style Furniture and Decor shows you more details of this trend which was originally designed to furnish royal hunting lodges and chateaux. This French furniture often features carved wild animals that you might see on the hunt, game birds and fish, mythical creatures such as griffins, as well as fruits, flowers, leaves, entwined vines and grapes.
Bring the Renaissance Style Into Your Decor
In addition to heavily carved antique Renaissance style furniture, you can also bring the Renaissance look into your home with decorative accessories (available at EuroLuxHome.com) and interior design elements such as:
Renaissance style vintage and new chandeliers
Decorative tapestries and wall hangings
Arch shaped mirrors to evoke classical architecture
Richly hand-woven throw pillows
Cherub sculptures
Brick or tile floors in earthy brown tones, patterned in geometric style
Wallpaper that looks like a mural fresco
Renaissance Style Furniture in Today's Homes
You can see how some of our customers have added antique Renaissance style furniture to their homes in our "customer spotlight" blog posts:
This style is perfect for a Victorian Era home and for anyone who enjoys traditional decor and beautiful craftsmanship and who wants a comfortable but classical look.
If you are shopping for Renaissance style furniture you can browse our large selection of exceptional antique furniture at the link.
Aimee owns EuroLuxHome.com with her husband and best friend, Greg. Aimee sources amazing antique furniture, vintage lighting, & high-quality reproduction furniture to help her customers decorate their homes in a unique way. She loves her 9 (you read that right) fuzzy children and is renovating a 1920s bungalow in South Carolina. Find us on Facebook or you can sign up here to receive this blog in your inbox.
French Hunting style furniture and decor became popular in the court of King Francis I in the 1500s. Yet four hundred years later, it looks just as good in today's homes. An impressive yet comfortable and welcoming style of decor, the French Hunting style is a great choice for people who enjoy an elevated rustic look. And no, you don't have to be a hunter to appreciate this fine craftsmanship.
The Origins of French Hunting Style Furniture and Decor
The French Hunting style was made popular by King Francis I (1515 - 1547) who ruled in France at around the same time as King Henry VIII ruled across the channel in England.
Francis I was a great supporter of the arts, especially Italian Renaissance art and architecture. He even tempted Leonardo da Vinci to move to France to create art in the King's court! King Francis spent a lot of money building and renovating castles and grand stately homes, including Château Fontainebleau, Château d'Amboise and Château de Blois.
Whatever the king did, the royal court followed. Aristocrats also began building châteaux and hunting lodges in the countryside near Paris in the rural Loire Valley. King Francis established a style of decorating these new buildings in a way that was inspired by the hunt and rural life, as well as noble mythological beasts that reflected the regal power of the monarchy. The aristocrats picked up on the look too, of course, following the taste of their King. Thus the French Hunting style was born. Whether this style is featured on a sideboard, buffet, or any other piece, the charm of this antique French style is truly special.
Renaissance Revival Hunting Style
Hunting style returned to popularity centuries later in France during the Renaissance Revival era in the late 19th century, when the newly wealthy middle class was keen to buy large, ornate and heavily-carved furniture to show off their rise in status. The Hunting style checked all the boxes, boasting fine craftsmanship in the carved details that was sure to impress. It was a very decorative look adorned with carved foliage, vines and animals, as well as handsome barley twists, yet this ornate style was still practical and comfortable to live with, focusing on dark woods rather than glitzy or gilded finishes.
Typical Features of French Hunting Style Furniture
To decorate the interior of aristocratic French chateaux and lodges, Hunting style furniture makers turned to symbols of the hunt to create an interesting theme in these luxurious pieces.
Carvings inspired by the hunt included stags, fish, birds, dogs, foxes, rabbits and boars.
Carvings of mythical creatures included winged griffins, dragons and serpents.
Noble lion heads were also frequently used to adorn furniture, with the carved heads roaring out of the wood. Metal lion heads decorated door or drawer handles on cabinets.
Carving of flowing forest foliage such as leaves, berries, acorns, fruits and flowers, or maybe even a barley twist.
Decoration in the shape of grapes and vines were also popular, as would be natural in this wine-making region of the Loire valley.
Barley twists often frame cabinets or serve as support posts on nightstands, adding more visual texture and design interest.
Dark woods such as walnut, oak, and mahogany are featured strongly, and now boast a beautiful patina on the antique furniture.
Warm colors
The heavily-carved woods were sometimes enhanced by stained glass in the upper doors of cabinets.
Hunting Style Furniture and Decor in Today's Homes
French Hunting Style antique furniture is still one of our most popular styles in our online store, proving that you don't need a fancy chateau or hunting lodge to enjoy the look in your own home! Our customers love these hand-carved antique pieces as they add great warmth, character and decorative appeal to a home.
The lavish carvings of foliage and fruits brings a noble but rustic look to any home, and makes Hunting style a great match for a dining room. Carved vines often trailed down the backs of dining chairs. Today, Hunting style dining chairs with vines and grapes are a great choice for wine lovers who enjoy opening a great vintage when they host dinner parties. For example, our antique French Hunting chairs in the customer spotlight of our customer Sal's dining room look amazing with their vines and grapes and also barley twists that create a bold silhouette.
Animal lovers will enjoy the realistic carvings of wild animals of the hunt (deer, moose, etc.) that bring a space to life and add tons of personality to a home. For example, carvings of roaring lions and other beasts are fierce protectors of your home! The animal faces are also sure to be a wonderful talking point at your next party.
The carvings of forest animals are the stars on this round antique French Hunting table, dating to 1880 and hand-crafted in oak wood. The vividly realistic details of the fox, boar, stag and hunting dog, all leaping out of the pedestal, are superb emblems of the royal hunt!
Nature is your muse for smaller home accessories too, including animal statues and figurines, or antler mounts on the walls or in light fittings. You don't have to buy real stag antlers. Our collection of new OK Casting antler wall mounts are hand-crafted in resin, and each one is made in America. They look very authentic and have a nice weight to them.
We also have OK Casting chandeliers and other light fixtures featuring stags, boars, foxes and other Hunting inspired motifs. Bookends and boxes are other nicely crafted pieces to complete the atmosphere.

Mechelen antique furniture is the Flemish version of French Hunting Style, named for the city of Mechelen in Belgium. These rustic pieces are also heavily-carved with splendid lion heads, human faces and figurines. Our blog post What is Mechelen Style Antique Furniture tells you all about this look, including photos.
You can find French Hunting style antique furniture and home decor in our online store, where there are plenty of options to pick a unique heirloom piece to bring this handsome look to your home.
Aimee owns EuroLuxHome.com with her husband and best friend, Greg. Aimee sources amazing antique furniture, vintage lighting, & high-quality reproduction furniture to help her customers decorate their homes in a unique way. She loves her 9 (you read that right) fuzzy children and is renovating a 1920s bungalow in South Carolina. Find us on Facebook or you can sign up here to receive this blog in your inbox.
Art Deco furniture is a style so timelessly chic, it's hard to believe that a whole century has passed since the Art Deco look first burst onto the design scene. As we enter the new Roaring Twenties, let's look back at the original 1920s and see why the sleek Art Deco style is still popular among international designers.
The Art Deco Era
The Art Deco movement became prominent in the 1920s and 1930s, when it was the perfect match for the modern thinking of the Jazz Age. After the ordeals of World War I, many people were looking to a new future, rejecting the fussy and elaborate Victorian and Art Nouveau styles of the early 20th Century. Out with elaborate shapes and ornate carvings, and in with streamlined silhouettes, metallic accents and sleek glossy lacquer surfaces, hallmarks of Art Deco design!
Amazing new technologies, materials, and methods of communications and transportation informed this brand new aesthetic too.
It was a very exciting time, and the younger generation was swept up in the energy. The "bright young things" had new ideas about society and they were forward-looking in every way.
Women started wearing knee-length skirts and dresses - this was scandalously short at the time! These women, dubbed Flappers, cut their hair short too, drove cars, smoked in public, partied and drank alcohol, and generally enjoyed themselves in ways that had previously been considered quite unladylike! They were the perfect icon for the rebellious, shiny, adventurous Roaring Twenties.
Art Deco Inspired Design
Art Deco style was very inspired by the Age of the Machine, as the new technologies of airplanes, automobiles and transatlantic travel on cruise liners captured everyone's imagination. This 'streamline moderne' look of Art Deco was very inspired by visual art, aerodynamic design, and geometric motifs. Furniture and architecture was designed with clean, dynamic, curved, and sweeping lines to create the feeling of speed.
Picture the soaring curves of the Chrysler Building in New York City and you'll have a good idea of both the optimistic feeling of the early Art Deco era and the distinctive look of Art Deco style.
In the 1930s, more rectilinear lines and geometric shapes, including fragmented looks, were added. These reflected the Cubist influence of artist Pablo Picasso, who revolutionized modern art.
Why is it called Art Deco?
Do you know why it's called Art Deco? It was named for the International Exhibition of Modern Decorative and Industrial Arts held in Paris in 1925. This was a showcase of exciting new design trends and the sexy new French Art Deco look made a great impact. In Paris of course the show had a French name: Exposition Internationale des Arts Décoratifs et Industriels Modernes. That's quite a mouthful, so thankfully people picked out the "Arts Décoratifs" piece and then shortened it again to Art Deco, although the term did not become widely used until the 1960s.
The Look of Art Deco Style Furniture
Sleek, chic and not at all meek! That's the Art Deco look, which relies on well-defined curves and lines. Geometric designs are sharp and streamlined, and applied decoration is also important to the look, including sunbursts, geometric patterns and stylized floral designs.
Influences include the design of modern ships, trains, planes and motor cars. Ancient Egyptian, Aztec and Central American art also creeps in, while ancient Greek designs emerge in Greco Deco.
The streamlined silhouette of Art Deco style furniture is simple, but when emphasized by the use of glossy and shiny materials it looks glamorous and opulent. With the unfussy shapes and lack of ornate carvings, all the luxury comes from the materials and finishes. For example, you will often see a gorgeous slab of marble topping a sideboard, buffet, nightstand or table or Art Deco pieces made from an exotic wood like macassar ebony.
Woods are dark to add to the sense of substance and exotic woods are beautifully grained to give a surface decorative effect. Gleaming mirror and glass gave a reflective and modern feel too. Chrome finishes and marble top buffets and sideboards are typical of the era. In Art Deco land, it's always time to shine up your chrome cocktail shaker and start the party.
Early Art Deco furniture designers used colors that were quite muted, including pastel pinks and greens, contrasted with black. But after the 1929 stock market crash in the United States, brighter colors were used for mass producing Art Deco home decor, to cheer everyone up. The popular Fiestaware dishes are a typical example with their bold yellows, reds, oranges, greens and blues. Famous Art Deco furniture designers include Emile-Jacques Ruhlmann and Jules LeLeu.
Art Deco Chairs
Whether you're arranging your coffee table with an Art Deco sofa, or choosing a set of dining chairs for your dining table, you'll find that this style of seating brings you the best furniture the decorative arts can create.
Typical Stylistic Features
Inspired by the architecture of the time, a standard art deco piece features Curvilinear shapes, think sweeping curves, and rectilinear shapes, with straight lines set at angles.
The look avoids fussy curlicues and ornate silhouettes. It's all about the clean lines to create a bold profile.
Geometric shapes and patterns, zigzags, trapezoids, chevron, nautical portholes and sunburst patterns.
Applied decoration is important. Motifs include female figures, and stylized flowers and animals such as gazelles and birds.
Glossy, smooth materials create reflective surfaces, including marble, glass, mirror, and lacquer finishes.
Polished metals were also important for the reflective look, including nickel, aluminum, stainless steel, brass, gold and especially chrome.
Dark and exotic woods created a sense of substance and luxury, often with beautiful grains to create surface pattern. Popular woods include rosewood, walnut, teak, maple, macassar ebony and zebra wood.
New man-made materials included Bakelite, plastics and other composites which were considered the bees' knees at the time!
Neutrals are chic, while pale pastel colors including pink and green, are accented with black.
Upholstery is typically a solid color. If pattern is involved, it might be a geometric or an animal print.
Velvet and leather are popular options for upholstery.
Shagreen and leather look combined with wood and chrome.
We love the Art Deco period and our renovated 1920s vintage bungalow dates to this era. The streamlined style is a kind of interior design royalty, eternally popular because it is so striking to look at and easy to live with. It works in many types of space to create an upscale and sophisticated feel that balances retro appeal with contemporary tastes. For example, the updated "streamline moderne" Art Deco look in the Architectural Digest photo above checks all the boxes for a home today.
Whether you are looking for original antique Art Deco furniture or high-quality new Art Deco inspired pieces, Greg and I hope you have enjoyed our guide to Art Deco style furniture and that you will check out our other blog posts aboutArt Deco interior design.
Aimee owns EuroLuxHome.com with her husband and best friend, Greg. Aimee sources amazing antique furniture, vintage lighting, & high-quality reproduction furniture to help her customers decorate their homes in a unique way. She loves her 9 (you read that right) fuzzy children and is renovating a 1920s bungalow in South Carolina. Find us on Facebook or you can sign up here to receive this blog in your inbox.